CEO Kim McKay at The Australian Museum in Sydney. Picture: Justin Lloyd.
A million people visited Sydney's Australian Museum last year, and an Egyptian-themed exhibition later this year is expected to draw in even bigger crowds.
Sydneysiders are embracing local cultural treasures like never before, with the Australian Museum revealing that a whopping one million visitors passed through its turnstiles in 2022.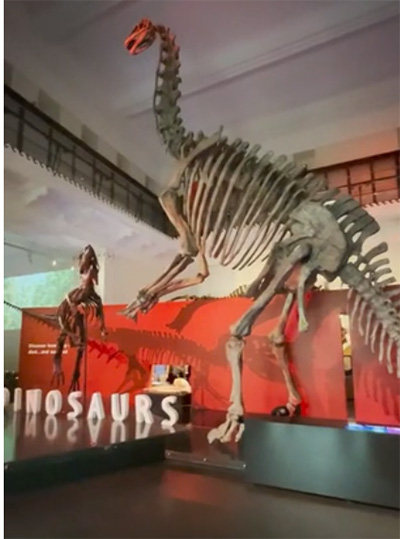 As the museum gets ready to host a massive Egyptian-themed exhibition later this year, its CEO Kim McKay says that post-Covid the city has embraced the institution like never before as a place to be both enlightened and entertained.
"People have come back in droves to museums and galleries," Ms McKay says, noting that her museum's free admission plus activities for every generation had really made it a drawcard for a day or evening out.
"We have this really fun place called Burra, which means eel in the local indigenous language, where kids can follow the journey of an eel down the Pacific Coast and into Sydney Harbour and all the way up the Parramatta River.
"And on Wednesday nights we stay open late so adults can come in and enjoy the museum after work with music and a drink and a little relative peace and quiet. All these things are about bringing people back into the city, and as we democratise the museum, it becomes a real part of the life of the city for everyone."
McKay says she is confident that numbers will remain strong this year, particularly as the museum looks forward to hosting the first major exhibition of Egyptian artefacts in a dozen years.
More than 181` objects from the tomb of Ramses the Great come to town in November.
"Let's face it, museums are there to entertain you on one level, but they are also about giving, opening your eyes to new ideas and discovering new things," Ms McKay says.
"Museums are really dynamic places, you would have once thought they were dusty.
"Well, now they're really interactive. I learn something new every day when I come here."