AMaGA National Conf Canberra 7-10 June 2021
Registrations are open to attend AMaGA2021.
For the first time, registrations are being offered for both in-person and virtual attendance. The program is available and you can check out the keynote speakers below.
Can't make it to Canberra? Virtual registrations for the full conference program are available!
Virtual attendance will allow you to view the full program live, and also via play-on-demand post-conference (in-person delegates can take advantage of this feature too), ask speaker questions, connect with fellow delegates and meet our sponsors and exhibitors. The virtual conference will be run using OnAir, an internet-based conferencing technology. You only need an up-to-date version of Google Chrome or Microsoft Edge to participate!
BURSARY APPLICATIONS EXTENDED
Applications for bursaries to provide financial assistance to attend the conference are open. The closing date has been extended to 12pm AEDT Monday 29 March 2021. There will be no further extensions.
If you applied for a bursary in 2020, you do not need to reapply.
Thank you to our 2021 sponsors and exhibitors
---
GUY ABRAHAMS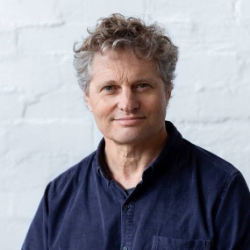 Climate change and the cultural sector panel
Guy Abrahams is Co-founder of CLIMARTE, and Director of the ART + ENVIRONMENT consultancy. Guy was a lawyer before becoming Director of Christine Abrahams Gallery (1987 – 2008). He is an Associate of the University of Melbourne Sustainable Society Institute and a valuer for the Australian Government's Cultural Gifts Program.
---
JILDA ANDREWS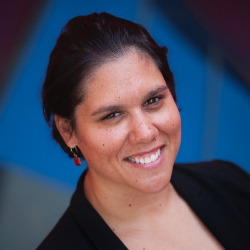 Climate change and the cultural sector panel
Dr Jilda Andrews is a Yuwaalaraay woman, cultural practitioner and researcher based in Canberra. Jilda draws from her heritage to investigate the connectedness of land, story and culture to objects in museum collections. Her focus on material culture and their associated stories interrogates the definition of custodianship, from one which is focused on the preservation of objects, to one which strives to maintain connections between objects and the systems which produce them. More
---
CAROLINE BOWDITCH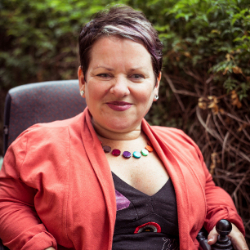 Leadership, transformative change and the future of museums and galleries panel
Caroline Bowditch, is proudly the CEO at Arts Access Victoria, the state's peak body on arts and disability. She returned to Australia after 16 years living, making, performing and touring work in the UK and internationally. She is committed to embedding change, raising the profile of Deaf and Disabled artists and exploring cultural heritage from a disability perspective. More
---
MEGAN DAVIS
Keynote speaker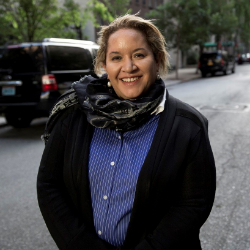 Professor Davis is a renowned constitutional lawyer, scholar and public law expert. She is a proud Cobble Cobble woman from the Barrungam nation in south-west Queensland.
Professor Davis is Pro Vice-Chancellor Indigenous and Professor of Law at UNSW. She is Acting Commissioner of the NSW Land and Environment Court and was recently appointed the Balnaves Chair in Constitutional Law. More
RHAHA DEVENPORT ONZM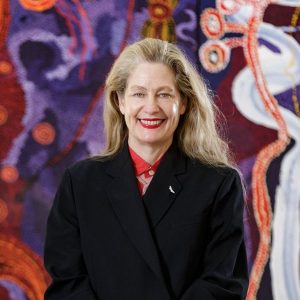 Leadership, transformative change and the future of museums and galleries panel
Rhana Devenport ONZM is the Director of the Art Gallery of South Australia and the first woman to hold this position. She is a museum director, curator, editor, and cultural producer whose career spans art museums, biennials and arts festivals. As former Director of Auckland Art Gallery Toi o Tāmaki she, in 2017, curated the work of Lisa Reihana for the New Zealand Pavilion at the Venice Biennale. More

---
MARCUS HUGHES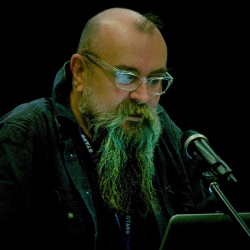 Leadership, transformative change and the future of museums and galleries panel
Marcus is currently the Director, Indigenous Engagement at the National Library of Australia. Marcus has worked within the arts and cultural sector throughout Australia and the UK as a producer, presenter and advocate across all artistic disciplines, contexts and environments. In 2014 he addressed the 6th World Summit on Arts and Culture and was Adjunct Associate Professor at Victoria University's Moondani Balluk Indigenous Academic Unit. More

---
JENNY NEWELL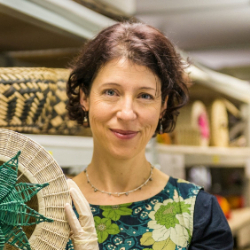 Climate change and the cultural sector panel
Jenny Newell is the Manager of Climate Change Projects at the Australian Museum. She works on the cultural dimensions of climate change, focusing on communities in Australia and the Pacific, as well as contributing to international networks of museums engaging with climate change. With a background in Pacific and Environmental History, Newell has held curatorial roles at the British Museum, National Museum of Australia, and American Museum of Natural History (New York). More

---
ARMANDO PERLA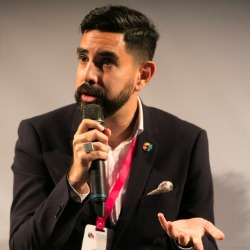 Leadership, transformative change and the future of museums and galleries panel
Armando Perla is a cisgender Latinx queer settler and former asylum seeker to Treaty 1 territory also known as Winnipeg, Canada. He now lives on the traditional territory of the Kanien'kehá:ka nation. Tiohtia:ke also know as Montreal has historically been a meeting place for other Indigenous nations, including the omàmiwininì or Algonquin people. Armando is a consultant, activist, and independent curator. More

---
LIBBY ROBIN
Climate change and the cultural sector panel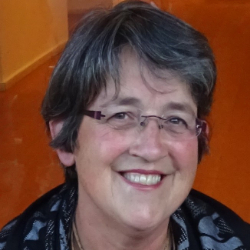 Dr Libby Robin is an environmental historian and curator-at-large, who has worked at the National Museum of Australia, Canberra and with museums in Copenhagen, Edinburgh, Munich and New York. She holds a doctorate in history and philosophy of science from the University of Melbourne, undergraduate degrees in arts and science and a graduate diploma in education. She is author of over 100 chapters and journal articles in environmental history, museum practice and the history of ecology. More

---
BEVERLEY WANG
Leadership, transformative change and the future of museums and galleries panel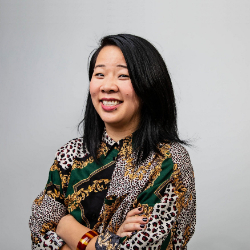 Beverley Wang is a broadcaster and journalist based in Melbourne. Her journalism experience ranges from newspaper and wire service reporting to radio producing, presenting and podcasting. Since arriving in Australia in 2009, Beverley has made national and international programs for many ABC radio networks, serving as executive producer of RN Drive from 2012 to 2017. She's the creator and host of It's Not A Race, a popular ABC podcast about race, racism and identity in Australia. Beverley is a strong advocate for representation in the media, and was named ABC Radio's 2017 diversity champion. More