'Little Pattie' on-stage performing for troops in Vietnam. Photo: Australian War Memorial.
Australia's withdrawal from the Vietnam War 50 years ago will be marked with two extraordinary concerts at Llewellyn Hall next month.
The Vietnam Requiem concerts, to be held on 5 and 6 June, seek to acknowledge the pain and suffering caused by the War with works by some of Australia's leading composers, musicians, and historians.
One of the performers, Patricia Amphlett, better known under her stage name 'Little Pattie', has seen this deep pain close-up.
As a 17-year-old, she was the youngest entertainer sent to Vietnam to perform to troops.
Despite being promised safety, she got closer to the 'front' than she had hoped.
On 18 August 1966, she was on stage performing her third show of the day when the Battle of Long Tan began less than four kilometres away.
"We were due to finish shortly when suddenly we were given the signal to finish 'now! now!'
"I remember just the chaos and the cacophony of sounds – there were sirens, people were yelling and gunfire," she said.
The young singer and her ensemble were quickly taken to a Jeep and driven to waiting helicopters.
"It's the sounds that will stay with me forever," Ms Amphlett said.
The group then flew over the jungle where the battle was taking place and saw the orange streaks of light she later realised was gunfire.
The Battle of Long Tan is now remembered as one of the most significant battles Australia has ever fought.
"We shouldn't have done as well, if well is the right word to use when it comes to war, as we did," she explained.
Eighteen Australians lost their lives during the course of the battle.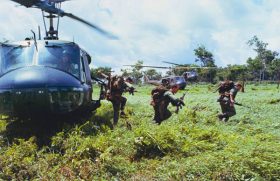 The experience affected her profoundly then and still does today.
Upon returning to Australia, she actively protested against the war.
"It's very important that we realise there is a difference between support for the war and support for the troops involved, now veterans.
"Like most wars, the Vietnam War affected people profoundly. Those who came home returned to a complete lack of support from the government and society, including the RSL.
"It was really difficult for their partners, wives and girlfriends as the men who came home were different.
"I protested the war, but I wholeheartedly support those who were involved," Ms Amphlett said.
It's for this reason that she is so passionate about projects such as the Vietnam Requiem.
Every month, she spends time with Vietnam veterans and speaks highly of their work and efforts to heal from the trauma they underwent.
"The public was not on their side and these men had to help themselves. It's because of their own support networks and groups that they are all doing well now," she added.
Between 1995 and 1998, she served on the Board of the Australian War Memorial (AWM).
Describing it as an extraordinary place, she says she is long overdue for a visit.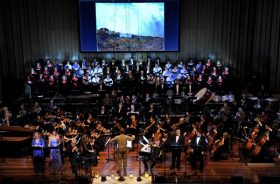 Ms Amphlett will join other iconic performers onstage for the Vietnam Requiem Concert that will feature songs and stories from the war to take audiences on a real journey of understanding.
It's the first commemorative work of its kind. It focuses on living veterans and all others affected by the war such as civilians, medical staff, entertainers, journalists, protestors and those who fled Vietnam as refugees.
It's been a long time coming.
Ms Amphlett sits on the advisory board for the concert which has led the community consultation with veterans and their families.
Directed by artist-in-residence at the AWM, Chris Latham, the moving concert will have two distinct halves – the first will be pop songs and performances from the stars of then and now, while the second half features new works from Australian composers.
Iconic names on stage will include John Schumann, Normie Rowe, Mark Williams and Nina Ferro.
The Vietnam Requiem – Flowers of War will be held on Saturday 5 and Sunday 6 June at Llewellyn Hall. Tickets are available online.
See also: Vietnam Requiem