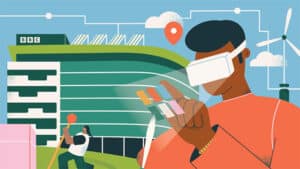 Late in 2022, we began a straightforward-sounding research project: compile a list of technologies that we should be paying attention to in BBC Research & Development over the next few years and make some recommendations about their adoption to the wider BBC. As I'm sure you've already guessed, things didn't turn out quite so straightforward.
By the end of the project, we'd interviewed twenty-two people from the fields of science, economics, education, technology, design, business leadership, research, activism, journalism, and many points between. We spoke to people from both inside and outside the BBC and around the world. All of these people have a unique view on the future, and our report teases out the common themes from the interviews and compiles their ideas about how things might come to be in the near future.

We grouped the themes we identified into five sections. The first, A complex world, outlines sources of complexity and uncertainty our interviewees see in their worlds. Climate change is by far the largest and most significant of these. The next section, A divided world, also covers big-picture context and outlines some of the social and economic drivers our interviewees see playing out over the next few years. The AI boom and New interactions go into detail on specific technologies and use cases our interviewees think will be significant. Finally, The case for hope bundles up some of the reasons our interviewees see to be hopeful about the future — provided we are willing to act to bring about the changes we'd like to see in the world

We wanted to get a sense of significant technologies and platforms; we also gained a sense of the wider social, political, and economic contexts that would be affecting the BBC and our audiences in the coming years. After all, no-one uses technology in a vacuum.*

The report is available to download here. We hope you find it interesting and useful – please let us know if you do!

* apart from quantum engineers, astronauts, and particle physicists.