"Has anyone been to a show at the Tanger center yet? I know masks are required, but how is it? I have two Littles at home, and my mask has a filter, I just want to be comfortable and safe going there. Please do not turn this into anything political or negative comments, I'm just looking for reassurance…"
More than 70 responses followed this question about the new performing arts center on my neighborhood's Nextdoor page.
"They require masks and also have hospital grade air purification system! It is state of the art!"
"Saw Wicked and at least 6 people sitting near me DID NOT wear there [sic] masks once the show started. Face masks were required but as stated above there were noncompliant attendees."
"…I didn't see anyone noncompliance [sic]. I heard no complaints from anyone, the staff were awesome, and the show was FABULOUS. I got so wrapped up in the show, that I didn't even notice the mask."
She wanted to go; she was seeking confidence. While the COVID pandemic is a much more extreme case, audience willingness to participate in the arts has always been about confidence.
According to the Insights Alliance, a research consortium in the UK, the staff at the new Steven Tanger Center for the Performing Arts here in Greensboro should be thrilled with this exchange on Nextdoor. Insight Alliance's research of UK arts and cultural audiences in the first month of reopening this year showed that audiences felt confident when they chose to attend performances, and their confidence was even stronger after the performance. The audience's willingness to recommend attending to others also increased after attending themselves.
Further, Insights Alliance would say that every cultural organization in Greensboro should be happy in this response to the Tanger Center because "trust appears interconnected" (discussed at around 29:00 in this webinar), meaning that confidence in attending one venue spills over to confidence in attending other venues.
In the U.S., Wolf Brown's research also shows high confidence level of arts attendees right now, even those attending indoor events. Overall, there's high satisfaction with the safety protocols in place when people visit a venue, with 70+% saying they were comfortable "in terms of their health safety".
Inspiring the confidence to attend is key, and it's not entirely in the control of the arts organization. Wolf Brown's data from last month show that 42% of survey respondents feel vulnerable to severe illness from COVID. About one-third are ready to attend now and about one-third say they are waiting until January 2022. Those are good numbers to know to manage expectations.
Alan Brown says, "People are making subtle distinctions. People are maybe open to going out; it's not a black and white proposition. They're looking at the conditions very carefully, and making decisions on a case by case, venue by venue basis. And that some of the people who say 'I'm not ready to go out' actually might go out, – this is kind of hopeful – if you can offer the right conditions." (Check out their data in detail – they are capturing regional variations in their studies.)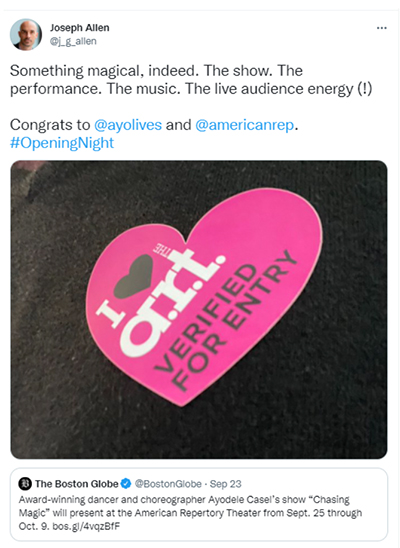 What are those conditions? Audiences in these surveys are telling us that protocols have to be more than just masks in order for most audience members to have the confidence to go. Surveys from Insights Alliance and Wolf Brown show that majorities want multiple safety protocols in place, some combination of masking, social distancing, and vaccine/testing requirements. Large percentages of people want all those measures – yes, even social distancing, which is so hard for organizations to make work, financially. A common response from the dissatisfied respondents (a third or less of all respondents) in the Wolf Brown survey was that they wished for more social distancing. The Insights Alliance researchers also recommended keeping or restoring social distancing, at least for some performances.
(A bright spot: arts audiences have high vaccination rates. Vaccination rates in both Wolf Brown and Insights alliance were in the 87-98% range.)
What actions by arts organizations can promote confidence of arts audiences to attend in-person?
Keep safety protocols to attract current audiences back – and enforce them. Insights Alliance shared that their survey respondents say they trust the venue, but worry about their fellow audience members actually following the rules (as you can see from the Nextdoor comments). "It's not a given that confidence will rise based on the most loyal people coming back. We will need to be vigilant for some time to come," said Katy Raines from Indigo, Ltd, a member of the Insights Alliance group.
Communicate effectively about what the audience needs to do, so their expectation matches their experience. Consumer behaviour expert Dr. Stacy Wood[1] (@DrStacyWood) says consumers are fine with learning curves; they just want the company to be honest about what they have to do. If it's complicated, say so. But backlash will come if you say it's easy, and then they find it hard.
Encourage people to share their (good) experiences. Try to inspire what Insights Alliance calls "social reassurance" that attending is enjoyable, safe, and feels safe. American Repertory Theater (A.R.T.) is giving taking inspiration from "I voted" stickers and vaccine selfies to give out stickers to their audience members, who all must prove they're vaccinated or have a recent negative test. Spontaneous sharing, recommendations and expressions of confidence will be the most impactful. (Colleen Dilenschneider's research shows that word of mouth not from the cultural institution is almost 13 times more effective than messages organizations put out themselves.)
(I am curious to see if venues will share good news about events NOT being sources of spreading COVID cases, or if they'll just stay quiet, even if they don't have cases stemming from gatherings.)
Back on Nextdoor, my neighbor writes another post, seemingly from the Tanger Center: "Things are fine. All around us in masks. Staying in seats." That's great, she felt comfortable and safe, as she wanted.
Confidence is not only required during COVID. It's always a precondition for arts participation. Confidence that the staff and your fellow audience members will treat you warmly and respectfully. Confidence that there's a gender-neutral bathroom, or a ramp. Confidence that the description of the show was accurate and your expectations will be met, more or less. There's a new set of concerns with COVID, and hopefully the conditions of the pandemic will change so the concerns can subside.
The question, "But how is it?" will remain.
Get new posts from Row X straight to your email inbox with the free ArtsJournal Daily or Weekly newsletter. Sign up here. Or, level up to the Premium Newsletter or become a ArtsJournal Patreon Fan.
---
[1] Wood, S. (2018). How can you influence change and innovation? In R. Hill, C. Lamberton, & J. Swartz (Eds.), Mapping Out Marketing: Navigation Lessons from the Ivory Trenches (pp. 141–143). Routledge. https://doi.org/10.4324/9781315112602