Joni Taylor,
'Heritage uploaded'

, ArtsHub, 30 October 2014

Open houses, period drama and app access are opening new doors for heritage architecture.

Heritage organisations traditionally concentrate on maintaining and exhibiting historical buildings. But the silent and static houses of the past are becoming interactive spaces as arts and heritage organisations employ digital strategies and open access policies to gain new audiences and reinvigorate interest in heritage architecture.

The new heritage sector is creative, participatory and technological. Artist Jonathan Jones recently won Kaldor Art Project's Your Good Idea competition with a project that will see will see him rebuild parts of Sydney's 19th Century Garden Palace, inspired by collections of Indigenous artefacts and incorporating performance.

Sydney Open, running this weekend through Sydney Living Museums, includes an app that provides providing maps, guides and social media integration.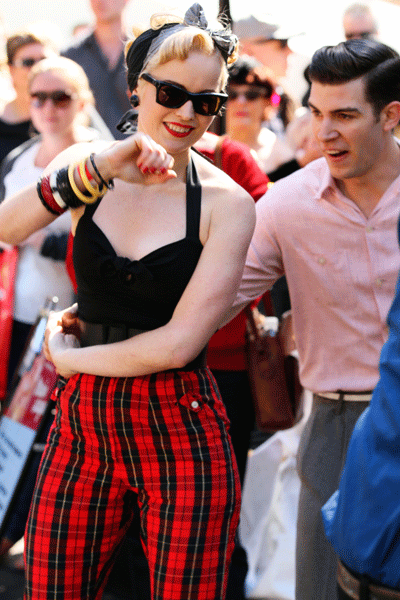 The National Trust hosts exhibitions which promote period costuming in popular culture such as the Miss Fisher Costume exhibition, which played off the TV series and the Edwardian and Wartime Fashion exhibition, in commemoration of WW1.
The popularity of TV series such as Downton Abbey has been a blessing for heritage organisations seeking to get a new generation excited about heritage architecture.
'Younger audiences are now engaging more with period costume drama,' said the Trust's HR Director Anne Weinmann. 'We are also seeing a similar rise in demand for knowledge of traditional trades in order to fully achieve authentic results in conservation and restoration projects.' In response the Trust is forming partnerships with building industry associations to promote the revival of traditional building methods and trades.
Marketing strategies have changed too. Sydney Living Museums changed its name from the Historic Houses Trust of NSW in 2013 in an effort to update the way it feels to a younger demographic. The slick SLM rebrand, designed with agency Frost, has repositioned the heritage organisation as a culture provider.
'Culture is not static. Sydney Living Museums is about experiences and participation which are important aspects in allowing people to feel a part of Sydney's heritage,' explained head of Programs Sophie Lieberman.
While previously a curator would define and program an 'event', now the SLM creates 'experiential spaces'. The upcoming Sydney Open is one such example.  'By simply being inside the building, visitors are able to form new relationships and current connections to the space,' said Lieberman.
She said there were benefits in increasing heritage value and creating relevance for the future. 'When someone feels a personal attachment to a place, it makes it relevant and therefore important to preserve.'
Events that spur social sharing are all the rage. The hugely successful Fifties Fair in the grounds of the Rose Seidler House in Killara is a much a photographed affair and SLM's social media strategy ensures a constantly updated stream of Instagram images and plenty of social media chatter.
Read more here.