Architecture practice Denton Corker Marshall has completed an art museum in Victoria, Australia, with a cubic glass form shielded by large metal-clad plates on its facades.
Won by the local practice via an architectural competition in 2017, the new 5,300-square-metre Shepparton Art Museum sits overlooking a lake at the edge of a nearby nature reserve.
As the site is a floodplain, the museum's footprint was kept small – extruded upwards to create five floors containing four galleries, children's spaces, and the Kaiela Arts Aboriginal community arts centre.
Denton Corker Marshall referenced the natural surroundings to conceive the museum as a "land sculpture". The project comprises the museum itself and an adjacent Art Hill, which conceals the building's services and parking beneath stepped concrete seating.
"Sitting between the lake and the main road into town from Melbourne, it presents a strikingly bold signal – a new contemporary building added to the fabric of the city," said John Denton, co-founder of Denton Corker Marshall.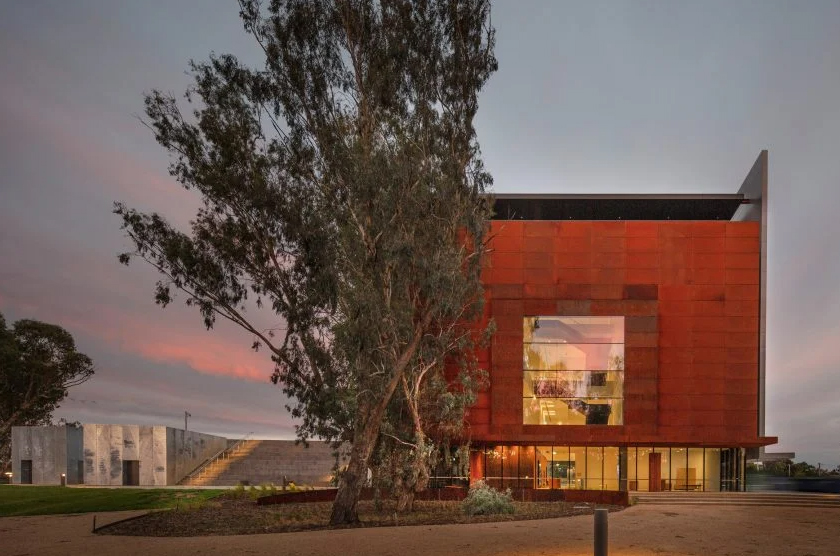 This sculptural form is defined by the four metal-clad plates that appear to shift as you move around the building's exterior. Three are clad in powder-coated silver aluminium, while a fourth faced in contrasting weathered steel demarcates the main entrance.
L-shaped in form, these plates extend with small canopies to created sheltered, verandah-like spaces around the museum's entrances, and feature perforated areas and cut-outs that give glimpses into the interior.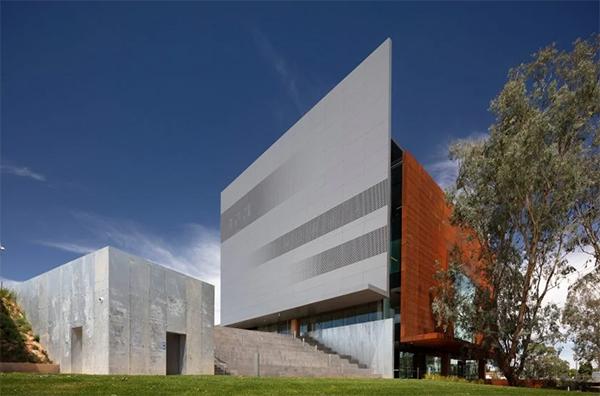 "From a distance, the plates give virtually no indication of the interior life to be discovered and explored," said the practice.
"At their base, they float seemingly unsupported over an open, visibly accessible and highly activated ground plane…each plate is an object in its own right and an integral part of the whole," it continued.
The museum's entrance leads into a full-height atrium, alongside the community arts centre and administrative spaces on the ground floor.
On the first floor, level with the Art Hill, a large cafe space opens onto a terrace that leads out onto the amphitheatre-style seating area.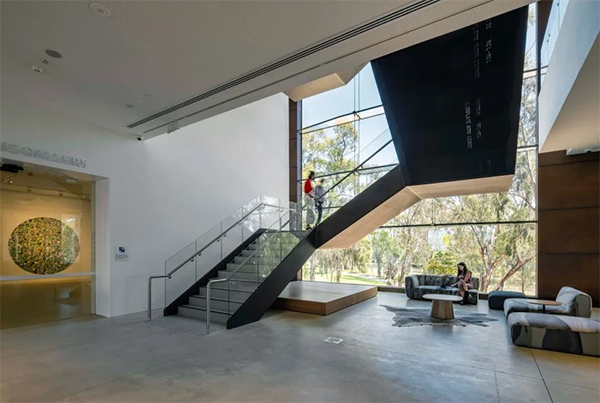 "The Art Hill creates an upper ground level, enabling the museum cafe to enjoy an elevated outlook whilst being directly connected to, and accessible from, the park," said the practice.
A central, open staircase connects to the museum's four gallery spaces, designed to show a mixture of international exhibitions, permanent collections and new commissions.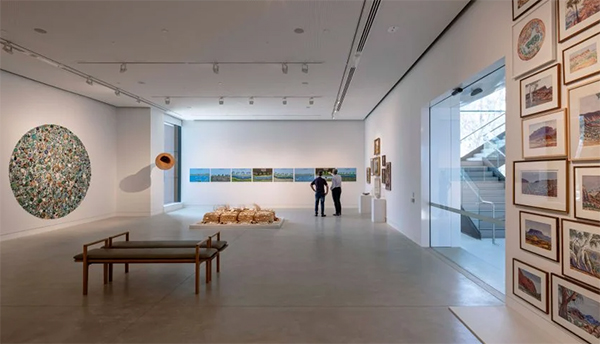 "The interior design [features] interconnected multi-level spaces, materials, texture, with intuitive way finding by Studio Ongarato," said the practice.
"[This is] overlaid with contrasts of drama, reflection, outlook, information and discovery, all of which are conceived as integral elements of the museum experience," it continued.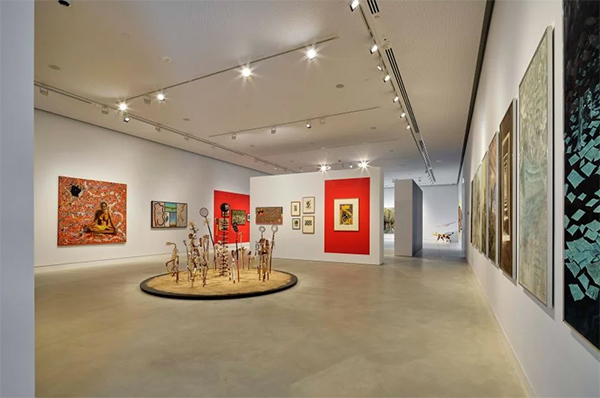 Previous projects by Denton Corker Marshall include the Australian Embassy in Jakarta, a cluster of cubic forms clad in contrasting metal finishes.
In 2015, the studio built a "mysterious black box" for Australia's contribution to the Venice biennale.
The photography is by John Gollings unless stated otherwise.