Emily Sharpe,
'First World War letters fall foul of UK copyright law'

, The Art Newspaper, 20 November 2014

Imperial War Museums among organisations to leave their display cases empty in protest

Display cases in museums and libraries across the UK sat empty this month in protest against current copyright law that prevents the display of certain unpublished works until the year 2039. Institutions wanting to exhibit letters and diaries written by soldiers during the First World War have been caught in what campaigners are calling a "Catch 2039". The term refers to legislation stating that orphan works (those by unknown authors) and work by authors born before 1969 and which had not been published by 1 August 1989 are under copyright until the end of 2039, regardless of their age.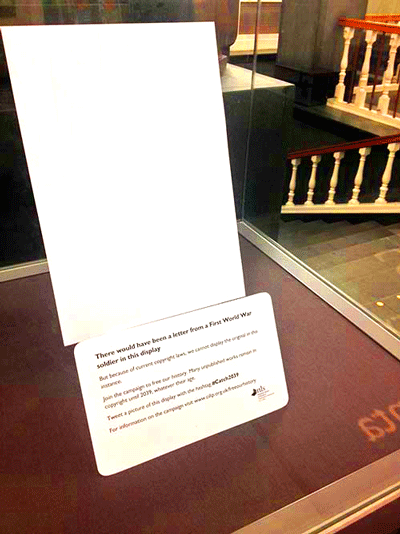 Institutions including the Imperial War Museums and the National Library of Scotland have joined forces with the Chartered Institute of Library and Information Professionals to launch the Free Our History campaign, which seeks to have the term of copyright protection in certain unpublished text-based works reduced to the author's lifetime plus 70 years. This means that, for example, the copyright of a letter written by a soldier killed in 1916 would have expired in 1986, and the letter would therefore be available for display.
"During the First World War centenary commemorations, many organisations want to make original unpublished works such as diaries and letters accessible to the public," says Diane Lees, the director-general of the Imperial War Museums. "Because they are still under copyright protection, they cannot do so without seeking permission from the rights holder. This is even more problematic if the rights holders are untraceable." According to a 2009 report, between 40% and 50% of archival works in the UK are orphan works. The Imperial War Museums estimates that 20% to 25% of its 1.75 million-strong collection of documents are orphan works. A week before the campaign began, the UK government launched a licensing scheme that allows for orphan works to be reproduced and for the rights holders to be compensated if they come forward. But campaigners say this does not address the root of the problem. Naomi Korn, a copyright expert, told Museums Journal that it was "preposterous" to launch such a scheme without dealing with the 2039 issue.
[Similar problems are encountered in Australia in relation to 'orphan works'. See the Australian Law Reform Commission report section 12 'Orphan Works – Scope of the orphan works problem'].