Unusual silcrete formations on the "Walls of China" at Lake Mungo Photo: supplied.
After spending more than 40 years in a box in Canberra, the final journey home of Australia's oldest human remains have finally been revealed.
Tight security will follow the ancient remains of Mungo Man as he makes his carefully planned journey from Canberra – slated to be on November 15 – accompanied by traditional owners, to Lake Mungo where he will be stored in a "secure location".
But some aboriginal elders say "government red tape" means Mungo Man still won't be at rest once he's returned to Lake Mungo in South-West NSW.
The department of energy and environment has released the plan detailing Mungo Man's final steps home – prepared by the NSW department of environment and heritage on behalf of traditional owners.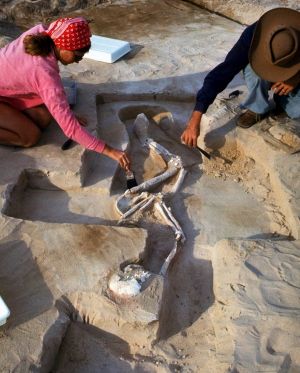 The remains of 42,000 year-old Mungo Man were discovered by archeologist Jim Bowler at the banks of Lake Mungo near Mildura in 1974, where he was partially exposed by erosion.
He was held at Australian National University for decades before being officially handed back to traditional owners in 2015.
Since then he has been stored at the Canberra's National Museum of Australia while protracted discussions between government departments and traditional owners took place.
Dr Bowler said for too long there had been a "sad lack of support" from both federal and state governments to repatriate Mungo Man.
"It's long overdue, I was greatly relieved when I heard of the final plans," he said.
The plan, now up for consultation, states Mungo Man will leave canberra mid-November and arrive at Lake Mungo by November 17.
A small, private, departure ceremony, hosted by the Ngunnawal people of the ACT, will take place at the National Museum of Australia, Mitchell facility prior to movement from the ACT.
The carefully planned journey, which involves two overnight stops, will be made under tight security.
It will travel via towns including Hay and Balranald, where welcome to country ceremonies will be held, before arriving at Mungo National Park where a welcome to country and repatriation ceremony will be held.
Mungo Man is set to be held in "secure storage" at Mungo National Park, with details of his ultimate resting place not yet finalised.
A public celebration and concert, headlined by Archie Roach, is set to be held in nearby Mildura the day after Mungo Man arrives.
But debate remains about how Mungo man should be put to rest.
Mutthi Mutthi elder Patricia Winch, who is a member of the Willandra Lakes Aboriginal Advisory Group committee, said she could not rest until Mungo Man was re-buried.
She said her mother, Alice Kelly, led a fight for Mungo Man, and other aboriginal artefacts, to be returned home beginning in the 1960s.
But she said government red tape has held up the repatriation and continues to halter efforts of re-burial.
"It's good to have him brought back to country," she said.
"It's just like anybody that's passed away anywhere in the world, if they belong to one part of the country you try to bring that person home.
"But we don't want him to be kept in a vault for too long, he needs to be re-buried, that will keep the old people happy.
"It's not really complete until he's back in the ground and I'm hoping that will be sooner rather than later."
But Parintji/Barkandji elder Michael Young said he was happy Mungo Man was coming home and being held in a secure location.
He said a lack of security meant if he was buried he could be accessed by members of the public.
"This is a treasure, it's an iconic moment for us we don't want to lose him once we get him back," Mr Young said.
"We believe there's nothing else that can be gained from further research and from being placed in Canberra in a box, we want him back on country."
Dr Bowler said the nation would be watching when Mungo Man finally returned home.
"It's a moment of national importance, it is the closing of a loop that began 43 years ago," he said.
"They were momentous moments in Australian history and for too long those remains have remained without any proper arrangements for the final resting place."