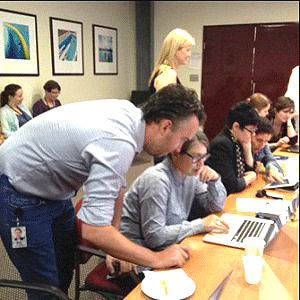 Hour of Code, launched in 2013, is a "… grassroots campaign encouraging students to try their hand at computer science, break stereotypes and remove the veil of mystery that surrounds this field". The 2013 campaign reached 44 million students worldwide, while this year's plan is to reach 100 million students around the world.
Today, we hosted our very own Hour of Code event in partnership with software engineers and education evangelists from Google Australia, our neighbours. While we're not exactly the target audience for the event, we thought this would be a great opportunity to get together and talk tech in a safe, friendly environment and just give it a go.
After the usual formalities, including an inspiring call to tech-action from Sally at Google, our event started with a choice of tutorials available on the Hour of Code learning site, with the most popular based around the movie Frozen and the mobile game Angry Birds. These tutorials were amazingly easy and very engaging as evidenced by a room full of ohhs and ahhs as we got started with, what we thought were cool activities, but were really teaching us to code. There were also more challenging activities for those who wanted to be stretched or were more familiar with JavaScript and the language of coding (that's you Heidi!). What I did feel worked particularly well was working in groups – mixing people with different skill levels and interests, coming together to learn to code, while also learning more about each other…
So, I encourage you to go to the website and try some of the tutorials – before you know it you'll be coding too!
Thanks Sally-Ann, Nick and Sarah from Google Oz – we learned a lot and had lots of fun, while opening our eyes to possibilities, as one of our  colleagues said in an email:
Thank you again for organising today – you have shown a gateway to a whole new world.
Here's an article from ABC news about the importance of learning code: Hour of Code: Young Australian students explore computer science, as numbers of IT graduates shrink