Zach Blas, Contra-Internet, 2017. Installation view. Commissioned by Gasworks; Art in General, New York; and MU, Eindhoven. Courtesy of the artist. Photo: Andy Keate.
We traveled around the world this year to look for some of the best art exhibitions and found some gems in Germany, South Africa, Spain, UAE, UK, and beyond.
This year may have brought out some of the worst in humanity, but many of us found inspiration and solace in art. This list is the best of what we saw around the globe and reminds us that great art and curation continue to make an impact on the world. From larger themes (Russian Revolution) to major biennials (Sharjah) and smaller shows, we were traveling a lot this year and present our favorites.
1. A Hundred Years of the Russian Revolution – various dates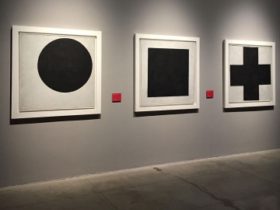 One Hundred Years of the Russian revolution was an unavoidable theme, with many exhibitions around the world showcasing art from the period, offering different layers of historical and political commentary. Two exhibitions in Yekaterinburg delivered the best commentary without actually referencing the revolution directly: Soothsayers of Oncoming: Russian avant-garde in the 1910s and 1920s, at the Yekaterinburg Museum of Fine Arts, focuses on a narrow period, and while it doesn't have any of the big pieces from major museums, its strength lies in showing many lesser known, previously unseen, pieces by Russian artists from Malevich to Lentulov to Exter to Goncharova across a range of styles. All the pieces were drawn from the collections of local museums. The 4th Ural Industrial Biennial curated by Joao Ribas, on the other hand, embodied with its topic, new literacy, the kind of (post)industrial revolution that contemporary societies are undergoing and the new forms of knowledge emerging with them, addressing the difficulties of historical change. Works by Alexandra Paperno, Forensic Architecture, Where Dogs Run, Basel Abbas & Ruanne Abou-Rahme, or Harun Farocki set the stage for a profound meditation on politics, technology, and history — the heart of avant-garde movements. Some remarkable historical exhibitions outside of Russia completed the picture: A Revolutionary Impulse: The Rise of the Russian Avant-Garde at the Museum of Modern Art not only displayed the museum's impressive (its Malevich and Lissitzky collections, for example, are unparalleled), but also gave a prominent critical place to women artists (Goncharova, Popova, Exter), and showcased material culture and publications from the period. REVOLUTIJA: From Chagall to Malevich, from Repin to Kandinsky, curated by Evgenia Petrova and Joseph Kiblitsky recently opened at MAMbo, is perhaps one of the most comprehensive surveys of Russian art (on loan by the State Russian Museum in Saint Petersburg) from the period; yet many key pieces in this exhibition, from Malevich to Matyushin, from Sebebriakova to Larionov and Kandinsky, have not been seen even in Russia in a long time. It encompasses all the periods and styles within the movement, and it's constructed as a timeline, so you can watch the transition all the way from their early radical demands against representation, to the beginnings of Soviet social realism. — Ari Akkermans, Various dates
2. Skulptur Projekte Münster 2017 (Münster, Germany) – June 10–October 1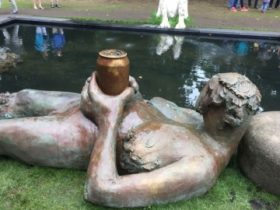 For this fifth edition of the decennial, founded by Kasper König and Klaus Bussmann in 1977, over thirty public art projects were commissioned and strewn throughout the city of Münster, located in the northwest of Germany. Pierre Huyghe's contribution "After a Life Abroad,"involved taking over a ice rink, which closed in 2016, and transforming it into what he refers to as a "network of self-organizing systems" — including algae, bees, and cancer cells whose growth is dependent on sensor readings of the surrounding environment. Particularly noteworthy is Nicole Eisenman's "Sketch for a Fountain": plaster and bronze, standing and reclining, larger-than-life figures whose gender is ambiguous. Though it has been vandalized more than once, the city has decided it will keep this work permanently. — Alpesh K. Patel
3. The Other's Gaze: Spaces of Difference at the Prado (Madrid) – June 14–September 10
The Other's Gaze: Spaces of Difference made visible aspects of queer histories and imagery in iconic works in their collection, among them Caravaggio's "David With the Head of Goliath" (c. 1600). Rather than segregating the works, curator Carlos Navarro presented an introductory text and visitors could find the works with a special museum map. Supplementary labels were placed besides the existing ones, and provided information related to artists' biographies, history of collecting, or iconography — I wish those special labels would remain permanently on display. Visitors could choose to follow this itinerary or encounter the texts, mirroring the dynamics of invisibility and disclosure of queer sexualities. For those who were unable to see the show, I would also recommend the excellent exhibition website and catalogue.  — Miriam M. Basilio