This report calls for new rules to extend the prohibition on former cabinet ministers lobbying government, new enforcement powers to ensure ministerial rules are followed, and greater transparency surrounding the outside interests of civil servants. It is critical of the prime minister's decision not to give his newly appointed independent adviser, Lord Geidt, the independent power to launch investigations.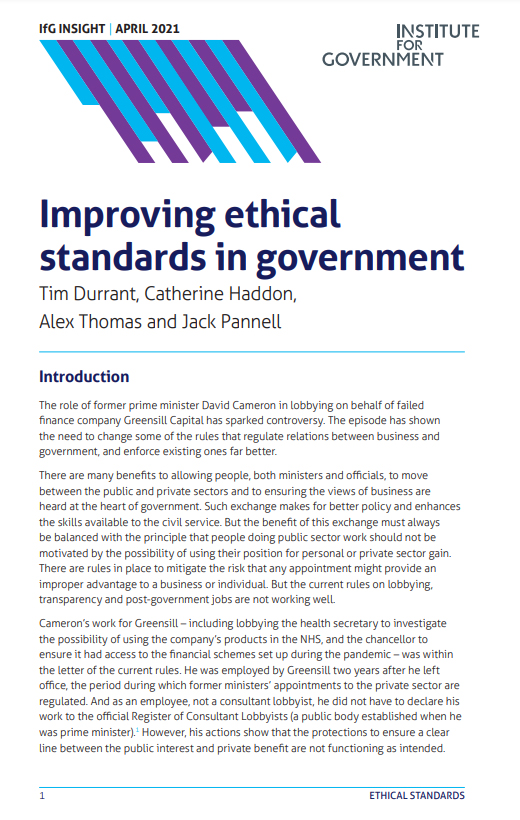 A patchwork of enforcement bodies oversee a range of rules on standards, ethics and access, but the Greensill affair, and subsequent revelations on relations between private sector interests and the government, have exposed serious weaknesses in the existing arrangements. At the same time, the prime minister's refusal to say where the money used to refurbish his flat originally came from has highlighted the importance of the transparency requirements in the Ministerial Code.
The report recommends a series of changes to rules and enforcement to restore trust in government and reduce the risk of conflicts of interest undermining public confidence:
Making the Advisory Committee on Business Appointments (ACOBA) a statutory body and giving it the power to apply financial penalties and to impose outright bans on former ministers and civil servants taking certain jobs, rather than relying on individual embarrassment to deter them.
Legislating to ensure that former cabinet ministers are banned for five years after leaving government from lobbying for any organisation that could profit financially.
Giving the Ministerial Code statutory backing, like the codes for civil servants and special advisers.
Allowing the prime minister's independent adviser to investigate possible breaches of the code at his own instigation – currently he can only do so if the prime minister allows him to.
Tightening the rules on civil servants having outside interests, with permanent secretaries held to account for the transparency of information on lobbying and managing declarations of interests for civil servants and other official appointees.
Expanding rules on registering financial interests to include all special advisers and other non-regulated appointees like the 'Tsars' brought in to improve vaccine rollout and test and trace capability.