The award-winning journalist is famous for uncovering shocking museum mishaps and art crimes, but did you know it all started with a Sydney museum?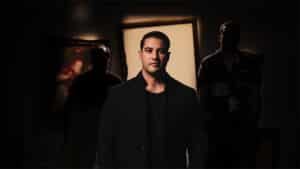 It's the heady days of the mid-1980s, and a confounding crime has been committed. Some 26 priceless European masterpieces belonging to the New Norcia Monastery (an unassuming Spanish monastery tucked away in the West Australian wheat belt) have been brutally slashed out of their frames, and detectives have been left baffled. This sounds like an investigation for Marc Fennell and the award-winning documentary team behind series like Stuff the British Stole – and this is exactly what they explore in The Mission, a new three-part series on SBS.
"In the middle of the West Australian bush is, for some reason, a centuries-old monastery built by exiled Spanish monks – which is weird enough, right?" Marc tells us.
"But what is even weirder is in the mid-1980s, two particularly skilled criminals broke in and stole what was thought to be millions of dollars worth of religious art – which, again, also strange! The even stranger part is what they planned to do with it, and where it was going to go. And that is a story that ends up sending me all around the world, from New York to London to Asia, because this is a crime with tendrils that just seem to reach everywhere."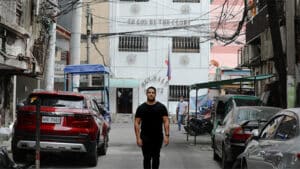 An (almost) life-long Sydneysider, Marc spoke to Time Out's Alannah Le Cross about the new series, and the twisted path that led him to become the poster person for uncovering the problematic true histories of the world's richest museum collections, as well as some wild true art crimes.
"I look for what I call 'small doorways into big worlds'… But what was unusual about this is that once you go through that small doorway, there's a whole big world there, and the story of New Norcia and what happened there has so many layers of crimes to it. Actually, the challenging thing was [asking], how do you bring an audience along for the ride? Obviously, it has to be entertaining, but then what does that reveal? What does that say about Australia? What does that say about this place? I think that's actually where it becomes a much more important story."
Marc and his crack team have gained a global following, and are responsible for casting a light on strange and fascinating stories from the museum and gallery worlds. From the podcast phenomenon of Stuff The British Stole (which spun off into a TV series in collaboration between the ABC and Canadian Broadcasting Corporation) – which reverberated across the culture and continues to impact the ways that we look at museum collections and the ethics of how objects were sourced (or stolen) – to Framed, the SBS series that series the wild theft of a Picasso painting from the NGV in Melbourne.
I love museums and galleries. It's a weird thing that I've sort of become a slight bane of their existence…
But all of this started with a peculiar story Marc and his team dove into their hometown of Sydney, where the biggest museum theft in Australia's history was carried out in the nation's oldest museum.
"Basically, at the turn of the millennium, a cleaner at the Australian Museum was sort of unveiled as having taken tens of thousands of dollars worth of stuffed animals – and he was an amateur taxidermist. ICAC ended up needing to set up an elaborate sting [operation] to collect him," Marc explains.
"I have interviewed him [the thief/cleaner], and I have interviewed the people who were involved in this thing. I do just think it is just one of the all-time incredible Sydney museum stories, and it's sort of amazing to me that it isn't better known!"
Stuffed: The Story of Australia's Biggest Museum Heist was produced for The Feed (a now retired youth-focused current affairs program on the SBS) and you can still watch the 15-minute program in full over here.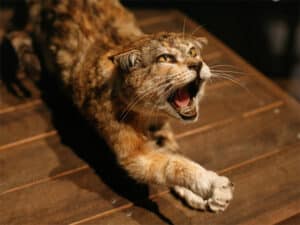 So, Marc Fennell has come a long way since Millennials knew him as "That Movie Guy" on Triple J radio, to become the guy who encourages everyone to think critically about museums and galleries. But does he think that these cultural institutions still have an important place in society, and in a great day out in the city?
"I love museums and galleries. It's a weird thing that I've sort of become a slight bane of their existence. I didn't mean for this to happen, I love them!" he says.
"But when I step into these places, I'm like, this is a box filled with mysteries. This is a box filled with stories, and the stories are invariably not on the walls. So what I would actually hope audiences get from this series [The Mission], from Stuff The British Stole, or any of the other things that I do – actually, I've got a podcast at the moment called House of Skulls, which is in similar territory – when you walk into these places, ask more questions. Ask 'Where did these things come from?' Or 'What's really happened here?' What have they missed? Because we rely on these places [to understand our history]."
"Museums and galleries are changing, there's no question about that, even between when I started and now. There's been a massive shift, but there's still a long way to go. There's still a lot of stories that don't end up on the wall."
Blending incredible archival footage and dramatised recreations, The Mission is a must-watch for true crime connoisseurs, history and art aficionados and documentary lovers. The three-part series premieres at 8.30pm Tuesday, October 24 on SBS, and is also available to stream on SBS On Demand (tip: it's free to sign up and get streaming).