UK Museum Cop held at Tate Modern says the sector has a 'responsibility to speak out about climate and biodiversity crisis'.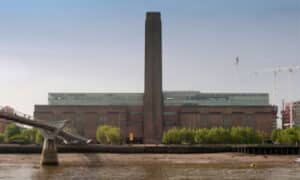 National and regional museums across the UK have agreed to take collective action on the climate crisis, including managing collections more sustainably and using their position to engage audiences with the issues.
Representatives of museums, organisations in the sector and funders took part in the first UK Museum Cop at Tate Modern in London last week. Among those attending were museums and organisations from Birmingham, Manchester, Bristol, Brighton, Leeds, Derby, Liverpool, York, Sheffield and London, as well as national bodies from England, Wales and Scotland.
Leading museums and galleries, including Tate, have ended sponsorship deals with fossil fuel companies over recent years under pressure from environment campaigners. The British Museum, which did not take part in the Museum Cop, announced this year it had ended its sponsorship deal with BP after 27 years.
In a statement described as a "first ever joint commitment for collective action", museum leaders said they felt a "responsibility to speak out about the climate and biodiversity crisis".
Museums are "institutions with a long-term view. Many have collections relating to the Earth's five previous mass extinction events, and we are now in the midst of the sixth, the Anthropocene. UK museum leaders feel they have an ethical obligation to take action to alleviate that damage," the statement said.
They pledged to use their "collections, programmes and exhibitions to engage audiences with the climate crisis and inspire them to take positive action"; to manage collections sustainably; to develop and implement decarbonisation plans; and to increase biodiversity in museums' green spaces.
Maria Balshaw, the chair of the National Museum Directors' Council, which organised the Cop, and the director of Tate, said: "Museums and galleries have a unique perspective as institutions that have to take a long-term view with their mission to preserve collections and stories for the long future.
"The conference agreed a series of vital actions to reduce the environmental impact of museums and show how they can inspire positive action for our public."
Nick Merriman, chief executive of the Horniman Museum and Gardens in south London and chair of the Cop, said: "Museums have a special place in the debate about the climate and biodiversity crisis because they can take a long-term view, beyond the short-term cycles of politics and economics.
"The fact that the whole museum sector has come together to stress the urgency for action is hugely significant. We will now work together to implement the actions we have agreed."
The conference called on UK politicians and businesses to accelerate action on climate change "before it is too late".
It recommended urgent changes to planning laws and increased investment to ensure the sustainability of heritage buildings, and for all museums to adopt a "greener option first" principle in all areas of practice.
Environmental sustainability should be included in training and apprenticeships in the sector, the conference said.