A gathering of the Met's Asian art curators in 2015: Oscar Tang, at right; department chair Maxwell ("Mike") Hearn, center; then director Tom Campbell between them; John Guy, curator of South and Southeast Asian art, at left. Photo by Lee Rosenbaum.
At some cultural institutions, including the Metropolitan Museum, naming rights can have expiration dates. That famously happened with the renovation of the former André Meyer Galleries for the Metropolitan Museum's 19th-century European paintings, and it looks like it's about to happen at the Met again: Move over, Lila Acheson Wallace! It seems that the late co-founder and longtime co-chairman of Reader's Digest, whose name has long presided over the museum's Southwest Wing, is about to be supplanted by Oscar Tang. His $125-million benefaction for a sweeping renovation of the Met's modern art galleries, announced on Tuesday, was described as "game-changing" by Robin Pogrebin in her NY Times report.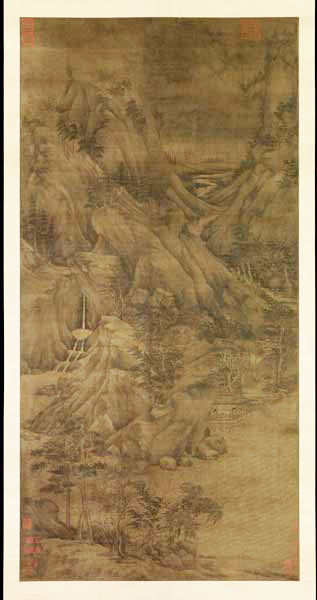 It's also name-changing: The 80,000 square feet of re-envisioned galleries and public spaces is to be known, for a minimum of 50 years, as the Oscar L. Tang and H.M. Agnes Hsu-Tang Wing.
According to the Met's announcement, "the Modern Wing will encompass a full renovation of the current modern and contemporary galleries, which the Met has been seeking to renovate for more than a decade." The project is estimated to cost about $500 million and an architect search (which includes the previously announced choice to redo the Southwest Wing—David Chipperfield) is in progress.
Tang's brother-in-law, the late Wen Fong, was the long-time chair of the Met's Asian art department and had hired Maxwell Hearn, who eventually succeeded him as the department's chairman. Fong's acquisition of "Riverbank" (donated to the Met by Tang) was highly controversial: Its identification as a rare 10th-century masterpiece by Dong Yuan was accepted by some, disputed by others. Currently identified on the museum's collection website as "attributed to Dong Yuan," (but described in this week's press release about Tang's latest benefaction as an "iconic 10th-century Song dynasty masterpiece"), this light-sensitive work is not currently on view, as the Met's website informs us.
The museum's written description of the work says that "'Riverbank' epitomizes Dong Yuan's new style," without explicitly stating that it was executed by that artist. In the museum's audio description of this hanging scroll, a voice that I believe to be Hearn's discourses on Dong Yuan and states that "when the painting was created in the 10th century, the Tang Dynasty had collapsed and China had fragmented into small kingdoms."
At the Met's press breakfast on Nov. 16 (which I attended), no mention was made of the Tang gift, which was announced two weeks later. But Hearn was seated in the front row during the formal presentation, usually a sign of the curator's being engaged in a newsworthy project. As you will see in my CultureGrrl Video (below) President Dan Weiss began by discussing the museum's finances and attendance numbers:
"In 2019, we had over 7 million visitors to the museum. This year we think we'll see somewhere between two and four million, depending on various circumstances. That doesn't matter. We're not here in order to have larger and larger numbers of people come. We're here to create and experience for people who are able to come and want to come, and this we are doing.

The good news is that people are coming, This past weekend was the busiest we've had since the pandemic began: We saw 40,000 people over three days….We have not yet seen restoration of international tourism, for obvious reasons. Only this week were the borders opened for many countries to come to the U.S. We are anticipating that those numbers will increase, as tourism is restored. [But as I write this, it seems that some borders may be closing again, due to the new inadequately understood variant and a post-Thanksgiving uptick in cases].

We're playing the long game here: We are open and we want people to come when they can and when they feel right to do so. Prior to the pandemic, a third of the 7 million visitation were international. Currently, it's not 8%—rising to 10%, maybe 12%, over the next month or two.

In the meantime, one of the most remarkable things for us is the way that this museum has become a local place. We have always been a New York museum, to be sure, for 151 years. But because of the pandemic and the restrictions on travel and various other factors, we have seen a much higher percentage of New Yorkers coming to the museum on a regular basis. [Presumably, that's not only because the number of New Yorkers has increased, but also because the number of out-of-town visitors is sharply lower.]
He went on to talk about the ambitious program of capital projects still underway: the skylight replacement in the European paintings galleries (to which I have given a mixed review, with photos); a complete overhaul of the Michael C. Rockefeller Wing for the art of Africa, Oceania and the Americas ("fully funded," according to Weiss, with an official groundbreaking ceremony scheduled for later this month); and the transformation of the Nolen Library as a multi-purpose, active learning center, free for children and their caregivers. Like all of us who have been knocked sideways by the impact of climate change, the Met also faces more mundane capital imperatives: "We had a lot of rain lately, and it has challenged our infrastructure in new ways. We have to look after that."
Such infrastructure ruptures may make it more crucial than ever for the museum have the financial backup provided by its newly established "Emergency Relief Fund" (ERF), consisting of reallocated flexible endowment funds and new fundraising from Trustees and key donors. In in FY21, the total ERF pot was increased to $100 million (as stated on P. 7 of the Annual Report) from the $75 million that had already been set aside the previous year (which I reported on here). "All ERF funds [i.e., the $100 million] will be used to fund operations for the period FY20/21/22," according to a Met spokesperson.
According to the latest Annual Report:
"The museum successfully contained its operating deficits to $7.7 million and $7.6 million in fiscal year 2020 and 2021, despite significant losses of unrestricted revenue and support."
Those deficit figures were calculated after some of the ERF money was used to defray some operating losses. In Fiscal 2020, some $32 million from the ERF was used for that purpose. (The previous fiscal year, there was a $2.3-million operating surplus.)
But back to Tang's welcome benefactions: The occasion for the photo at the top of this post was the 2015 announcement of the public phase of the Met's $70-million fundraising campaign to enhance the Asian art department's staff, programs, collections and facilities.
In response to my query, Ken Weine, the Met's chief communications officer, updated me on that project:
"Thanks to Oscar Tang, Florence and Herbert Irving, and many other donors, the Department of Asian Art has been successful in achieving its fundraising goals. The [Robert] Ellsworth[-owned] paintings that were promised to The Met at the time of his initial gift, but that remained in his apartment until his death, have now entered the museum's collection. One, Solitary Traveler in the Mountains [my link, not his] by Fu Baoshi (ca. 1945), has been remounted and is currently on view."
These days, being a "solitary traveler" seems to be the way to go. Speaking of which, I haven't yet decided whether to brave the press-and-dignitary scrum at upcoming Rockefeller Wing groundbreaking ceremony (Will there be social distancing?)
There seemed to be plenty of breathing room in the gift store, when I stopped by after the press briefing, at a time when the museum was fully open to the public. Below is a view from front to back. (You can spot a lone shopper at the far end.)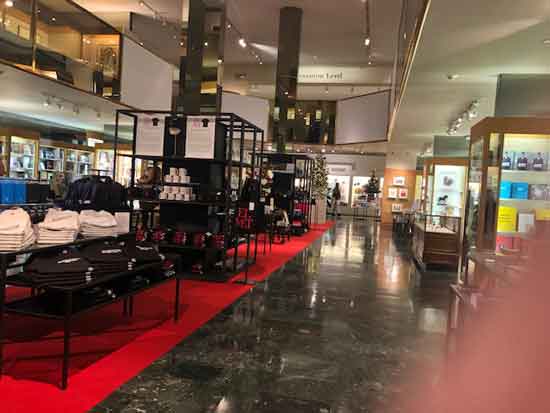 The cashiers were waiting (but idle):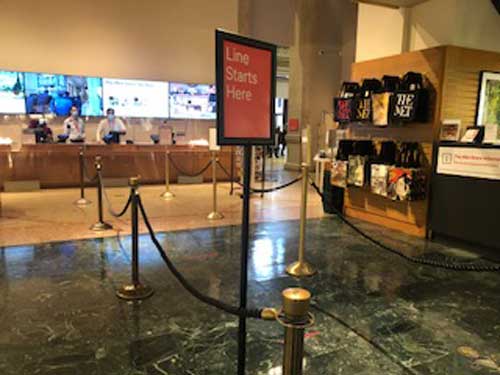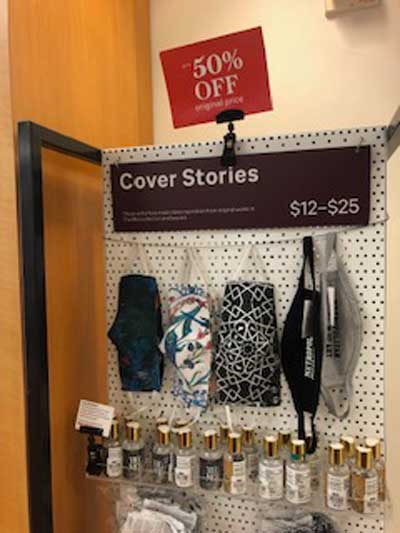 This seeming "retail fail" was dramatic evidence of one component of the $150-million "shortfall" in revenue that the Met says it has experienced due to the pandemic. This month's holiday season (already in progress, thanks to an early Hanukkah) will be a telling indicator as to whether earned income from admissions, memberships and retail (not to mention end-of-year donations) will significantly rebound in the report for Fiscal 2022.
But back to the press breakfast: In my video, below, of Weiss' excerpted remarks, you will see Hearn at 1:26, lifting a fork to his mouth as Weiss talks about the Met's diminished visitation numbers: