A render of Gandel Gondawana Garden. Photography: Courtesy of Museums Victoria.
It might be the closest you'll ever get to Jurassic Park. Wander among huge models of prehistoric creatures, then visit an adjoining exhibit of the most complete and best-preserved triceratops skeletons in the world (that's open now).
Come the end of this year, you'll be able to let your kids roam free – or roam free yourself – in a new 900-square-metre outdoor adventure garden at Melbourne Museum.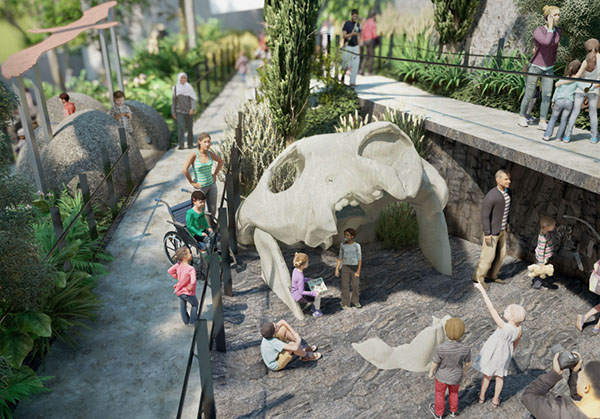 With greenery all around, the immersive, sensory gallery will allow visitors to discover how the state's natural environment has changed from prehistoric times to now.
The play-based learning space – called the Gandel Gondwana Garden – will be geared towards six-to-12-year-olds. But it'll adjoin recently opened exhibition Triceratops: Fate of the Dinosaurs, which is a spectacle for Victorians of all ages – it's one of the most complete and best-preserved triceratops skeletons in the world.
In the garden, there'll be five different ecosystems to traverse – with huge models of prehistoric megafauna and flora – to explore the state's ever-changing biodiversity. Meanwhile, First Peoples' stories will be front and centre throughout the outdoor gallery, which will delve into the inextricable link between land, language and culture.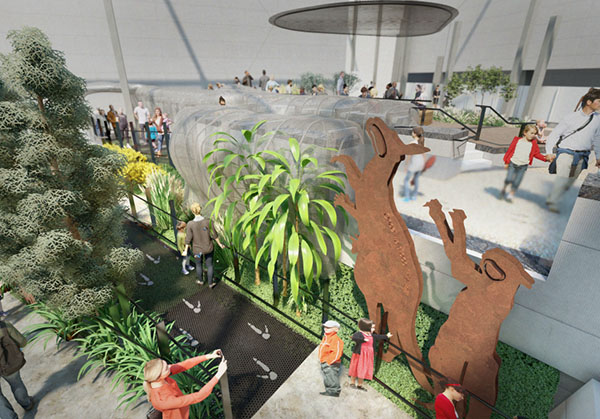 "The Gandel Gondwana Garden is an immersive wonderland, letting kids roam through our natural history and appreciate the extraordinary creatures that once roamed this land," says Danny Pearson, minister for creative industries, in a statement.
It's named after renowned Victorian philanthropists Pauline and John Gandel, who have contributed substantially to the project. And it'll connect to the museum's existing (and beloved) children's gallery, which is also named after Pauline Gandel. Gondwana is the supercontinent that once connected most of the Southern Hemisphere.
The Gandel Gondwana Garden is set to open at Melbourne Museum in late 2022.