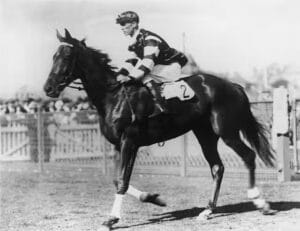 When the legendary Phar Lap won the Melbourne Cup in 1930, the big chestnut horse didn't just live up to his Thai name, which means "lightning". He also brought together strands of colonial history and mythology that are only now properly visible.
Much worshipped in life and in death, Phar Lap has occupied a unique place in the story of Australia's and New Zealand's evolving national identities. The posthumous division and distribution of his corpse into "relics" – mounted hide, skeleton and heart – represented a form of what I call "new world worship".
Old world religions were an important part of colonisation. But the early settler experience also saw the appearance of quasi-religious icons and symbols, one of which was the horse. Vital for settling, farming and policing the new land, they became more than mere beasts of burden.
Successful colonisation involved the breeding of introduced species – plants and animals, but also people. Physical strength, egalitarianism, battling against the odds and "mateship" were characteristics of the new colonial societies on both sides of the Tasman. For a while, Phar Lap embodied them all.
Breeding good colonial stock
The other thing Australia and New Zealand shared was a "cultural cringe" that expressed itself in a need to prove the new colonies could take on the world and win. National myths based on climate, soil, good pastures and practical skill took shape.
Whether it was soldiers, race horses or rugby players, the goal was to produce the best winning stock in the world. Breeding champion race horses from overseas bloodlines fitted the narrative perfectly.
By the time Phar Lap was born in Timaru in New Zealand's South Island in 1926, horse racing was well established as an important industry throughout Australia and New Zealand. Uniquely, it brought together the business of breeding and training with socialising, entertainment and gambling.
Antipodean racing culture mimicked British rituals and traditions, but involved a wider cross-section of society. Many factors made following the horses so appealing: genetics, condition and training, track conditions, riders and of course the field, all contributed to the interest and the odds.
A big race meeting became a kind of "holy day". The fun, excitement, dressing up and partying while trying one's luck on the horses lives on today, nowhere more so than at the Melbourne Cup.
Phar Lap's famous win by three lengths in 1930 – having survived an assassination attempt shortly beforehand – became part of the legend. Against the grim backdrop of the Great Depression, he offered escapism and even a sense of confidence that things could be better.
When he won the Agua Caliente Handicap in Mexico it thrilled Australians and New Zealanders alike. And his death two weeks later saw shock and public mourning. The attendant conspiracy theories – killed by gangsters, toxic feed, too much arsenic in his tonic – are seemingly as immortal as Phar Lap's memory.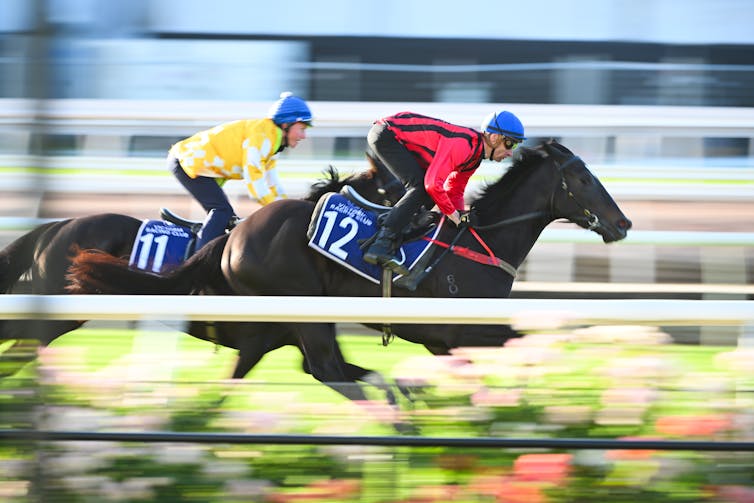 Horse with a big heart
Like holy relics, the horse's hide, bones and heart were brought back from the United States and then shared between Australia and New Zealand for the faithful to witness.
Renowned New York taxidermists the Jonas brothers created the life-like mount that went to the National Museum of Victoria (later the Melbourne Museum). Phar Lap's skeleton went to Wellington's Dominion Museum (now Te Papa).
But it's Phar Lap's heart that has seen the most myth-making and mystery. Preserved and displayed at the National Institute of Anatomy in Canberra (later the Australian National Museum), it is extremely large, leading to various claims that it enabled Phar Lap's success and that it can't be authentic.
Nonetheless, the symbolism of a big heart can't be denied. And while it evokes the preserved and sacred hearts of old-world saints, it suggests forms of new-world worship are evolving too. All three museums claim their Phar Lap relics are perennially popular.
Phar Lap's skeleton and hide were temporarily reunited for a special exhibition at the Melbourne Museum to celebrate the 150th anniversary of the Melbourne Cup in 2011. But it's ironic the remains of a horse that once united Australia and New Zealand should be so separated.
Then again, perhaps it's a fitting metaphor after all, as the two former colonies find their separate way in the modern world, nearly a century on from Phar Lap's brief but glorious reign.