PSnews online,
Museum purchase strikes right note,

8 April 2015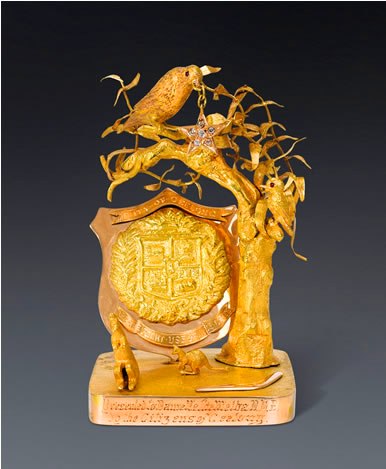 Museum Victoria has bought a gold paperweight that belonged to opera luminary and national icon, Dame Nellie Melba.
The paperweight, which went under the hammer last week at Sotheby's Australia in Melbourne, was purchased with a contribution of $136,620 from the Australian Government's National Cultural Heritage Account.
Chief Executive of Sotheby's Australia, Geoffrey Smith said: "It's an incredibly unique object and incredibly important for Australia."
The paperweight, which was created by Victorian company Hammerton & Sons in 1922, was presented to the singer by the people of Geelong for her fundraising efforts for the local hospital.
It is significant for its connection to Dame Nellie but also for many historical associations which include Australian iconography, the local gold and silver smithing industry and regional Victorian history of the 1920s.
"It is impossible to determine the true value of extraordinary and impeccable provenance," Mr Smith said.
Through the National Cultural Heritage Account, $500,000 is made available each year to cultural organisations such as museums, galleries, libraries and historic buildings to purchase Australian protected objects, as defined by the Protection of Movable Cultural Heritage Act 1986.
The Account helps to ensure that significant Australian objects remain in Australia and are made accessible to the public.
Dame Nellie is of special significance to Victoria as she was born in Melbourne and took her name in honour of her hometown.