ON SET: Key scenes of the new SBS period drama series New Gold Mountain were filmed at Ballarat's much-loved Sovereign Hill. Pictures: SBS.
A new television series set to air on SBS next month will share the story of Chinese miners on the Victorian Goldfields, filmed at Sovereign Hill and other regional Victorian locations.
The four-part series New Gold Mountain opens in Ballarat in 1857 and tells the story of the gold rush from the perspective of Chinese miners who took big risks for a chance at a fortune in a new land.
The series follows characters, inspired by real life, who are brought together by a mysterious murder on the goldfields.
SBS director of television and online content Marshall Heald said the period drama put a human lens on a pivotal moment in history we have not seen on our screens before.
Director Corrie Chen said it was a reimagining of the Chinese voice in Australia's colonial history.
"As an immigrant and non-European settler, I am particularly excited to direct a show that will finally let me put Chinese-Australian cowboys on-screen and revise the canon of the classic Western," she said.
Ms Chen said the series also told three powerful stories of women on the goldfields, another perspective that was rarely explored.
Writer Peter Cox said the period was a pivotal moment in history where people, regardless of their origins, could change the trajectory of their lives.
"There were people from all around the world turning up with a bucket, a shovel, and a pan to make their fortune and to become somebody," he said.
The key scenes of the 1850s Ballarat Town were filmed at Sovereign Hill. Other scenes were filmed at Woowookarung Regional Park and You Yangs Regional Park.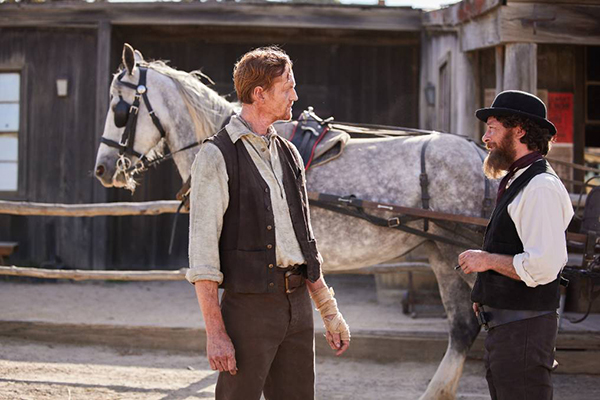 Producer Kylie du Fresne said New Gold Mountain would not have been able to be made without the support of Sovereign Hill.
"The museum has theatres, bars, banks and shops and so we were able to design the series around shooting there," she said.
"We were fortunate to have considerable access as it was closed for much of 2020 due to the COVID-19 pandemic so it became like a backlot for us and added incredible production value."
Other film sets were specifically constructed, including a Chinese village in a national park.
New Gold Mountain premiers on October 13 on SBS and SBS On Demand.