National Museum curator Sophie Jensen, and Trevor Kennedy at the NMA to launch the exhibition. Photo: Ian Bushnell.
There are many beautiful objects in newsman Trevor Kennedy's eclectic and vast collection, but it's their connection to Australian history and the Australian story that stirs his passion for them.
"I've got this weird view that everything historical about Australia is beautiful," he says. "You can make up your own mind about whether or not it's beautiful."
When he started collecting stuff from junk shops when he was young and "pretty broke", he had no idea where his hobby would lead.
Being transferred to London as a young journalist only fed the collecting bug, discovering the joys of Portobello Road and other markets.
"Portobello Road was so fantastically entertaining, and so much Australian stuff used to find its way back," he says.
As his fortunes waxed, so did the quality and value of his purchases, and after 40 years of collecting, he held a treasure trove of Australiana, including art, craft, furniture and memorabilia at his Kent Street premises in Sydney.
Last year the National Museum of Australia acquired the 5,000 piece collection for more than $8 million. Mr Kennedy donated items worth $7 million, keen to see the collection kept together in one place.
Now, in what has been a labour of love for curator Sophie Jensen, 500 items have been selected for exhibition in their first public viewing.
Dr Jensen says there will be something for everyone in this exhibition, and each item has its own story to tell and place in Australian history, spanning the years from the founding of the colony to the 1970s.
"The beauty of a collection like this is the way in which it can do many things for many people," she says.
"There will be little pockets of this exhibition that people can just enjoy for the sheer beauty of it, but underneath it all, it's a real story about Australian life in every object – whether it's the factories that were manufacturing these as mass-produced items or individual craftspeople that might have come as convicts or come as free settlers."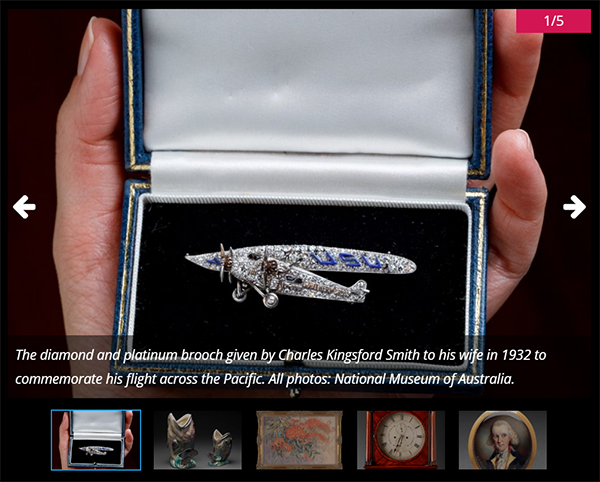 Dr Jensen says the task was to select a range of items that reflected the diversity of the collection, from the highly significant Oatley clock and Watling's miniature portrait of John White, the principal surgeon on the First Fleet, to the Derbyshire and Wembley Ware that people remember from their own childhood.
For the sport-minded, there is also the world bantamweight championship belt awarded to Lionel Rose when he defeated Japan's Fighting Harada in 1968 and the 1869 Sydney Cup.
"Every object has its story, but they also represent the story of Australian craftsmanship, Australian design, the story of Australian manufacturing," she says.
The objects are grouped in their particular era, reflecting Mr Kennedy's passion for Australian history.
"What all those eras in Australian history relate to is a period when we were wealthy and we could afford to buy things, make things and design things – and that's the overriding theme in this collection," Dr Jensen says.
For her, it has been a curator's dream to work with someone as passionate and energetic as Mr Kennedy and a collector who enjoys giving his collection new life.
It is also a significant milestone for the Museum, which borrowed a selection of jewellery from Mr Kennedy for its opening exhibition, The Golden Civilisation, two decades ago.
"Every single item that we borrowed 20 years ago is now a part of our collection," Dr Jensen says. "That's a big moment for those of us who were here at the opening, to now see them in our home, permanent in our collection says that we've really come of age."
National Museum Director Mathew Trinca said that to acknowledge the Museum's largest and most significant acquisition, the forecourt bush garden would be named in recognition of Mr Kennedy and his wife, Christina.
The Trevor Kennedy Collection exhibition is open until 10 October 2021 in the Studio Gallery. Entry is free.