Museum curator, Dr Lily Withycombe at left and a young visitor to the exhibition at right.
A major exhibition, Ancient Greeks: Athletes, Warriors and Heroes from the British Museum featuring iconic objects that have never toured the southern hemisphere, is coming to the National Museum of Australia (NMA) in Canberra in December 2021.
Museum curator, Dr Lily Withycombe, talks to The Greek Herald about the international show which celebrates sporting prowess in the ancient Olympic Games, highlights the theme of competition and explores its role as a force for innovation and excellence.
TGH: Dr Withycombe, you are curating the 'Ancient Greeks: Athletes, Warriors and Heroes' exhibition. What is happening behind the scenes in preparation for this unique exhibition?
So many things! The project team has been working on the development of this exhibition for about two years. While the content comes from the British Museum, we have to shape it to suit our audiences and fit our main gallery.
So, we have been editing the interpretive text and revising the exhibition order, with lots of meetings to workshop this process, as well as back and forth communications with colleagues at the British Museum. We think that we have ended up with the perfect layout.
We have also been working closely with a design team, Wendy Osmond Design, to create a stunning exhibition experience. The exhibition palette pivots on the iconic black and orange colour scheme of Attic vases and follows this spectrum throughout the show.
The design and layout are informed by the latest audience visitor research to ensure the comfort of our visitors, and we have endeavoured to maximise the space of the gallery, ensuring that all large objects are on open display on plinths, and that visitors have a sense of spaciousness upon entering.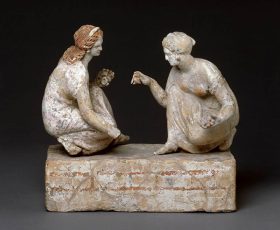 There is a catalogue accompanying the exhibition, for which we commissioned two renowned Australasian Classicists, Professor Alastair Blanshard, from the University of Queensland, and Dr Diana Burton, from Victoria University of Wellington, to consider the reception of ancient Greece in Australia from the 18th century to the present in an additional essay and contextualise the exhibition within contemporary Australia and New Zealand.
Finally, we have also been producing a series of exhibition interactives, including audio tours, animations, the Osmeterion (where visitors can smell the different scents of ancient Greece), an ancient art colouring interactive, additional graphics like a map of the ancient Mediterranean and a timeline of key historical events, all designed to appeal to different audience types.
Some of these products have been collaborations with the Tāmaki Paenga Hira Auckland War Memorial Museum, who will be hosting the exhibition in New Zealand later in 2022. And of course, every department in the Museum is busily working on their focus area – from digital, public programming, retail, to education. It's going to be non-stop from here on in until the day that we open.
TGH: What are the elements that make this exhibition one not to be missed for Australian audiences?
There are many ways that we have transformed this international touring exhibition into a unique experience for Australian audiences. All our additional interpretation and programming, for example, has been designed specifically for this purpose.
But above all, there are two objects which cannot be missed. About two years ago, our director Dr Mathew Trinca requested the inclusion of two outstanding addition objects: the so-called 'Apotheosis of Homer' relief, which presents an exquisite example of Hellenistic relief marble carving signed by the sculptor Archelaos of Priene; and a black figure amphora by Ezekias, the most famous of all known Attic painters, which shows a powerful scene from the Iliad.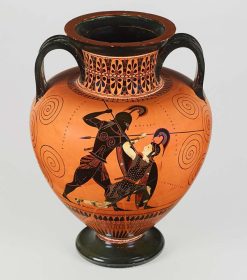 These two objects are very famous and moving examples of ancient Greek art. Although the Apotheosis relief had never before travelled to Australia, the Ezekias vase returns to Australia only for the second time since 1991. I won't be the only person moved to tears when standing in front of these treasures.
But of course, every object has the potential to be an 'unmissable moment' for someone, as different objects will appeal to different people. For me, the statue carved from Parian marble featuring a demure young woman enfolded in luxurious fabric, revealing the virtuoso talents of marble sculptors who could create soft fabric from such hard materials, offers an outstanding example of ancient Greek skill that will never fail to astonish me. And everyone will be entranced by the array of Attic vases on display, as they present such fascinatingly graphic glimpses into life in the ancient world.
TGH: The exhibition showcases various objects including sculpture, armour, jewellery and pottery. Some of them have never been displayed before or travelled internationally. Does this make your curatorial work more challenging?
On the contrary, it makes it more exciting! The uniqueness of the objects helps to make this a truly special exhibition for our visitors, and more fun for us to curate as we need to research and understand them. One of the main challenges with this object list is the varying dimensions of the object list. Some statues are over life size at 2-metres in height, but other objects, like the items of gold and silver jewellery, are tiny.
For example, a blue gemstone exquisitely engraved with a figure of the goddess Nike setting up a trophy of armour gathered from the battlefield, is only 3cm in height and 2.5cm in width. Visitors may find it hard to appreciate the detail of this object with their eyes alone, and so our solution has been to intersperse large scale wall projections of the tiny objects throughout the exhibition, giving them maximum visibility.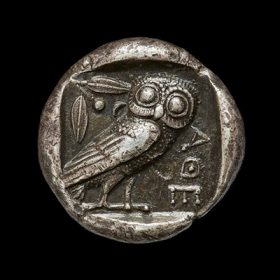 TGH: Australia is home to the third biggest Greek diaspora in the world. Has your interaction with the community influenced your curation of this exhibition?  
We have directly engaged with different Greek communities in Australia to ensure that this exhibition is delivered with integrity, and we are so grateful to the individuals and organisations who have helped us along the way.
Well-known ABC broadcaster Patricia Karvelas worked with us to voice the audio tour; and other Greek-Australians have advised on aspects of the exhibition's development from programming to design to retail.
TGH: Why do you think it is of great importance for Australians to learn about the Greek culture?
Ancient Greece remains as a kind of blueprint for many aspects of society and culture in Australia – it echoes daily in our political and civic systems, architecture, language, and food. Ancient Greek literature is still studied in schools and universities across the country, its tragedies and comedies performed and reinterpreted for contemporary audiences.
The universal themes of love, betrayal, adventure, and religious and family obligation still resonate with us. Ancient Greek culture has been reimagined and reinterpreted over millennia, and each time it is given new relevancy.
In more recent times, Greek migration has helped to shape contemporary Australia. This is why our programming will include events dedicated to celebrating Greek culture, and our retail space will include products by Greek-Australian industries and makers, showcasing fashion, art and design.
TGH: How can younger Australians get involved in the program?
To ensure that the exhibition is engaging to younger Australians, we have designed a suite of dedicated interactives and programming just for them, including an audio tour voiced by children and an illustrated trail which will help guide young visitors on their own path through the show. We will supplement this in-person experience with online 'Fun at Home' activities.
During the school holidays, kids will be able to help us to build a Greek city in the National Museum's Gandel Atrium, and we will run a series of workshops for children led by a local artist drawing on themes of the exhibition and some of its objects. Younger audiences are also likely to be particularly intrigued by the objects in the exhibition which reflect the lives of children in ancient Greece.
Exhibition dates: