The Queen met serving members of the Royal Australian Air Force stationed in Britain. Credit: Getty Images.
Runnymede: The Queen has honoured the thousands of Australians who died in the skies over Europe but were never found, in a rare journey outside the walls of Windsor Castle by the recently vaccinated monarch.
Her surprise appearance at a memorial service west of London was the pinnacle of a day of commemorations to mark the centenary of the Royal Australian Air Force and a nod to the 94-year-old's enduring affection for Australia.
The visit to the Air Forces Memorial at Runnymede was only the third time since March 2020 that the Queen has held an engagement away from the castle where she and Prince Philip have sheltered for most of the coronavirus pandemic.
After arriving by car at 11am local time (9pm AEDT), the Queen was greeted by high commissioner George Brandis, met serving members of the Royal Australian Air Force stationed in Britain, viewed the names of Australia's war dead and signed a commemorative document.
Her attendance had been carefully planned for months by Brandis and Buckingham Palace officials.
The Royal Australia Air Force was announced in the government gazette on March 31, 1921 after Britain gifted 123 planes from World War I.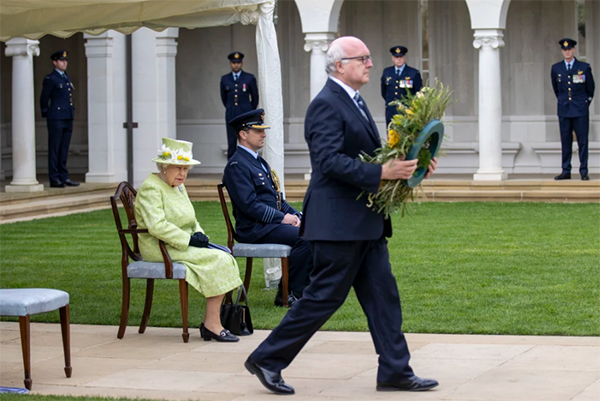 In a formal statement, the Queen said she was "delighted" to congratulate the RAAF.
"As one of the oldest Air Forces in the world, it is fitting to pay tribute to the efficiency, skill and sacrifice of the men and women who have served in its ranks, in Australia and overseas, during the past one hundred years," she said.
"Throughout my reign, the Royal Australian Air Force has shown immense dedication to duty and defended our freedom in many conflicts around the world."
The Queen wore a lime and ivory summer tweed dress and coat, and the same wattle-shaped brooch she was given by the government of Australia during her first visit in 1954.
The Runnymede memorial commemorates the 20,456 men and women from the air forces of the British Empire who died during World War II and have no known grave.
The Queen – who served as a driver and mechanic during World War II – first opened the imposing memorial on October 17, 1953. The then 26-year old had succeeded to the throne just one year earlier.
See also: