Marion Hall Best wearing a Marimekko dress in the courtyard of her home in Woollahra, 1968. Picture credit: Caroline Simpson Library & Research Collection, Sydney Living Museums. Picture: Rodney Weidland.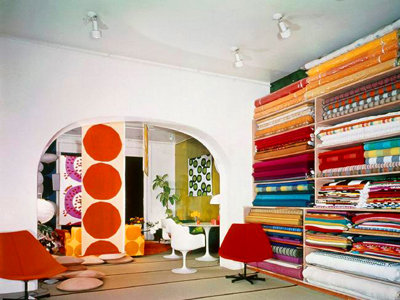 During a period of time that was all about bold experimentation, Marion Hall Best was always one step ahead.
The late interior designer's uncanny ability to transform a room with her fierce love of bright colours and avant garde styles from the 1930s until the early '80s still manages to wow people.
From her signature glazed and painted walls to the international furniture designs and materials from her shop in Woollahra, Best has largely been credited with bringing modernism to Australia.
The influential designer will be honoured with an exhibition of her work at the Museum of Sydney from August 8 to November 12.
"She used a lot of furnishing and materials from all parts of the world," curator Michael Lech says.
"People would go to her store just to have a look at what the new thing was."
Lech says Best's interest in colour and modern styles was something she had never quite grown out of.
"She was always excited about colour and even later in her life she was always using incredibly bold, bright colours," he says.
The event is part of Sydney Living Museums' series A Modernist Season, which will celebrate the renewed interest in modernist design with a variety of exhibitions, talks and tours from July to November.