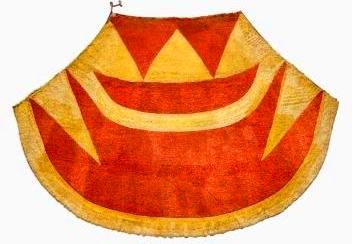 A priceless feather cloak and helmet gifted to Captain Cook in 1779 are being returned to Hawai'i by Te Papa.
A ceremony at Te Papa on Friday March 11th will welcome the Hawaiian delegation who will uplift the taonga.
The 'ahu'ula (cloak) and mahiole (helmet) were a gift from Hawaiian Chief Kalani'ōpu'u to Captain James Cook, and have been in Te Papa's collection since being gifted to the national museum in 1912.
The 11 March ceremony is open to media and promises to be a spectacular and emotional  occasion, as a Hawaiian delegation is welcomed onto the marae to receive their treasures and take them home.
The cloak and helmet will then travel back to Hawaii on a special Hawaiian Airlines flight, and will be welcomed in a formal Hawaiian ceremony on 17 March. They will go on display in the Bishop Museum in Hawai'i from 19 March.
These stunning feather garments are among the most significant treasures in Hawaiian history, and have an incredible story to tell about the history of the Pacific.
For more information see the statement below from the Bishop Museum, Office of Hawaiian Affairs and Te Papa.
The Treasured Mahiole (feathered helmet) and 'Ahu 'Ula (feathered cloak) of Kalani'ōpu'u Return to Hawai'i
Honolulu, HI – In 1779, the chief of Hawai'i Island, Kalani'ōpu'u, who traced his regal line to the great chief Līloa of Waipiʻo, greeted an English captain named James Cook after his ship made port in Kealakekua Bay. As a demonstration of his goodwill, Kalani'ōpu'u gifted the 'ahu ʻula (feathered cloak) and mahiole (feathered helmet) he was wearing to Captain Cook. Now for the first time, both the storied 'ahu 'ula and mahiole will return together to its home islands since they left its shores on Cook's ship 237 years ago.
In a partnership between the Office of Hawaiian Affairs (OHA), The National Museum of New Zealand Te Papa Tongarewa, and Bernice Pauahi Bishop Museum, the 'ahu 'ula and mahiole of Kalani'ōpu'u will make their monumental journey in March 2016 to be displayed at Bishop Museum in Honolulu, O'ahu.
"We are very proud to be working together to make the return of the 'ahu 'ula and mahiole possible. This historic collaboration is celebrated among each of our organizations as we transfer, receive, and care for these pieces, and continue in a tradition of mutual respect among the cultures of the Pacific," said representatives from OHA, Te Papa Tongarewa, and Bishop Museum in a joint statement.
"We are thrilled and honored to be able to return these treasures home to Hawai'i, and into the care of the Bishop Museum," said Rick Ellis, chief executive of Te Papa Tongarewa. "When they are shared with the people of Hawai'i, I am sure they will inspire some wonderful conversations and insights, as they did when displayed here in Aotearoa New Zealand."
The feathered cloak and helmet have great extrinsic value, but more importantly, they possess great intrinsic and spiritual significance. For Native Hawaiians, the 'ahu 'ula, mahiole, and all other featherwork were reserved exclusively for the use of their ali'i (royalty), symbolizing their chiefly divinity, rank and power. It embodied the life essence of a thriving abundant environment which are the telltale signs of leadership, as it takes a healthy forest ecosystem to produce enough bird feathers and cordage to make these regal pieces. From a historical perspective, the artifacts represent a period in the timeline of Hawai'i when there was a balance between the cultural, political and spiritual parts of Native Hawaiians and the environment.