A sword blade hilt made of iron and gold and inlaid with turquoise. Photo: supplied.
New Zealanders will have the chance to get up close with the ancient terracotta warriors this summer.
The 2300-year-old treasures are coming to Te Papa as part of the Terracotta Warriors: Guardians of Immortality exhibition.
The exhibition comes with a $2.6 million price tag but the exhibition's curator Rebecca Rice thinks it will be a once in a generation opportunity.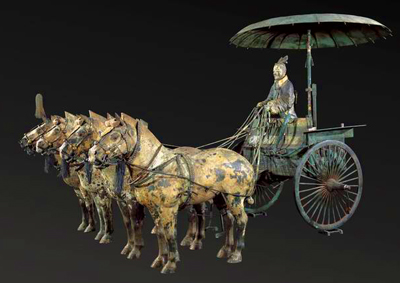 "The warriors visited Wellington in the 1980's but the real things have not been back since, so it's a wonderful opportunity for New Zealanders to view these imperial icons."
As only a certain number of warriors are able to travel at once, the exhibition will feature eight of the soldiers standing at 180cm high and two full-sized horses.
The famous army guarded the underground tomb of China's First Emperor Qin Shihuang for more than 2000 years.
They were discovered in 1974 by a farmer digging a well and are often regarded as an eighth wonder of the world.
The exhibition will also house half-size replica bronze chariots and treasures from in and around China's ancient capital Xi'an that date back to 1046 BC – 220 AD.
Rice travelled to the First Emperor's mausoleum in China to help her create the Te Papa exhibition.
She said it was an amazing experience.
"Not only did we get to visit the tomb site and see the pits themselves but we travelled around provinces and visited a number of museums all of which we are borrowing things from."
Rice said it will be a rich exhibition that will appeal to many from the archaeological side, the historical side and because of the beauty of the objects.
Te Papa chief executive Geraint Martin said it will give an opportunity for New Zealanders to see the treasures that many would not otherwise get to see.
He expected 100,000 people to visit the exhibition and generate an estimated $33m economic benefit to Wellington.
Wellington Regional Economic Development Agency (WREDA) said it was fantastic news for the Wellington region.
The exhibition is funded by $500,000 from the Government's Major Events Development Fund and support from WREDA.
WREDA's general manager of marketing and destination development David Perks said securing the terracotta warriors is an example of the commitment to strengthen ties to China and boost tourism.
"Developing the Chinese market is one of our main goals, but we also want to help bring Chinese culture to Wellington and hosting the Terracotta Warriors is a great avenue to do just that."
The exhibition will run from December 15, 2018 to April 22, 2019.