There are now 55,000 museums worldwide – double the number in 1990 – with a new one opening every day in China alone. But as they begin to morph into big-business brands, and we become ever more digitally obsessed, can this trend continue?
It's a Sunday afternoon in October at the British Museum. Everyone comes to museums to look at the stuff on display, but looking at the people doing the looking is often as interesting. There are excited kids and bored teenagers, nonplussed parents and not-fussed couples. There are also huge groups of Chinese tourists crocodiling from Norman Foster's covered courtyard into the museum's new extension – a sober £135m box by Graham Stirk – to see the current blockbuster exhibition filled with Ming vases whose plinths should definitely not be leant upon, Groucho Marx-style.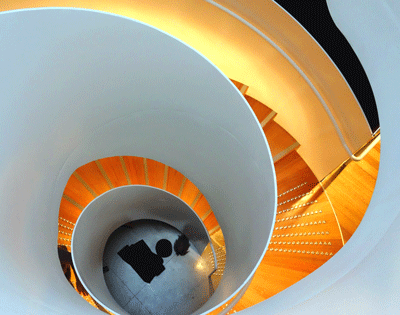 Our museums seem to be booming. Visitor numbers rise and rise. It's open season for new openings, and for the big-name architects who nowadays spend most of their lives knocking up anodyne towers for overseas tycoons, building a museum extension must seem like a rare laugh.
The Queen cut the ribbon on the Science Museum's new permanent Information Age gallery last month. Tate Britain splashed out £45m on a refurbishment by Caruso St John – with a pleasing spiral staircase at its heart – which opened earlier this year. So did the Imperial War Museum's £40m upgrade by Fosters. It's barely two years since Belfast's Titanic Museum, three since Zaha Hadid's Riverside Museum in Glasgow, and four since Zaha won the Stirling Prize for MAXXI in Rome.
Tate Modern is erecting a new building next to Bankside Power Station by Herzog & de Meuron, the Design Museum will be moving into RMJM's derelict Mad Men-esque Commonwealth Institute in Kensington in 2016, and the Geffrye Museum in Shoreditch is expanding. The Aga Khan Museum has just opened in Toronto, New York has its new 9/11 Museum, Stanford and Harvard Universities have invested in new museums, the Richard II Museum is new to Leicester, Coop Himmelb(l)au's much-delayed Musée des Confluences opens in Lyon next month, just like Barcelona's new design museum. The Economist reckons we now have 55,000 museums worldwide – a number that has, incredibly, doubled since the 1990s. China averages a new museum every day.
Curiously, we don't splash out on council houses or universities or hospitals any more – but we do build museums and galleries. They're a reliquary for our collective memories. And they're a triumph of our collective will. "Museums have reinvented themselves," reckons Sharon Heal, editor of Museums Journal. "They've been improving for decades, but I think it's only in the past few years that public perceptions have really changed."
For Alain Seban, president of the Pompidou in Paris: "Museums are places where things are considered in the long term. They serve as beacons, distilling a sense of authenticity and truth – and they are also, quite simply, places of beauty and meditation. In an era of doubt, of uncertainty, of rapid change – the audience's enthusiasm is hardly surprising." High ambition requires leg work. Museums need visitors and they need money, as Science Museum director Ian Blatchford cautions: "London's major museums have benefited from recent growth in international tourism, though the picture elsewhere [in Britain] has been patchy. Ambitious programming and creative marketing have been key to record visitor numbers. This requires investment – so I'm afraid the 'boom' would vanish like the morning dew if there were major funding cuts in 2015."