The femurs of a King Island emu (left) and a Tasmanian emu, the former's miniature size just one of its special features. (ABC Radio Hobart: Zoe Kean).
It was 1805 and amongst the sweeping lawns of the Château de Malmaison in Paris a small, dark emu lounged in the sun.
Black swans graced the lake and kangaroos dispersed as Empress Josephine, consort to Napoleon Bonaparte, would show guests her latest exotic treasures.
The emu was rare as it was the last of its kind — an endling.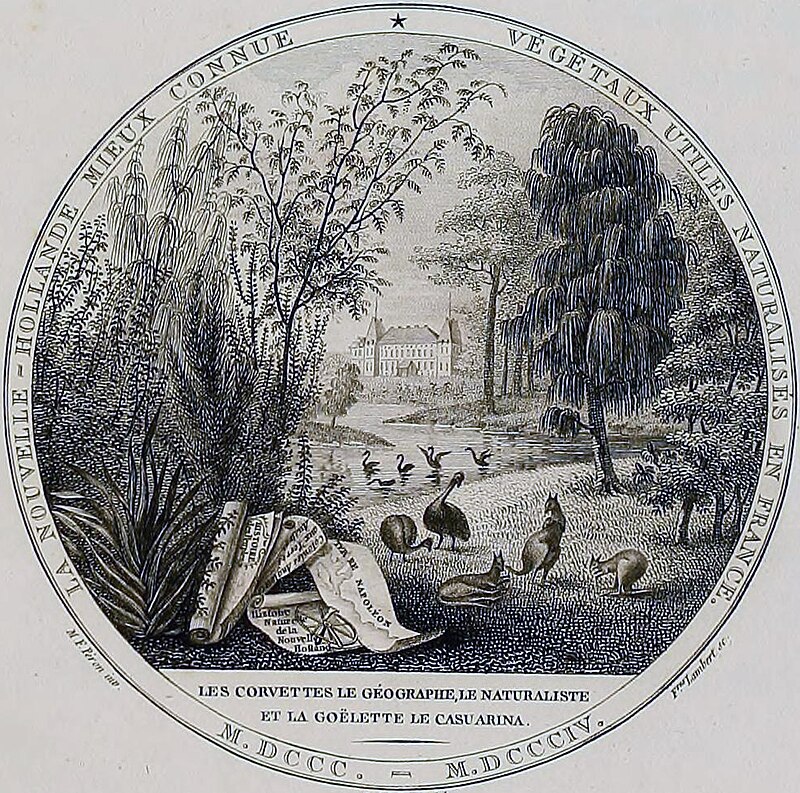 This diminutive creature was a King Island emu, Dromaius novaehollandiae mino, a small, dark subspecies unique to the island it was named after.
"The mainland emu is around 30 to 45 kilos, and the King Island emu seems to have been closer to 20 kilos," said David Hocking, curator of vertebrate zoology and palaeontology at the Tasmanian Museum and Art Gallery.
King Island was connected to the mainland and Tasmania during the last ice age and only became distinct when the earth warmed and sea levels rose around 14,000 years ago.
"That fairly short period of isolation was enough time for the King Island emu to dramatically change," Mr Hocking said.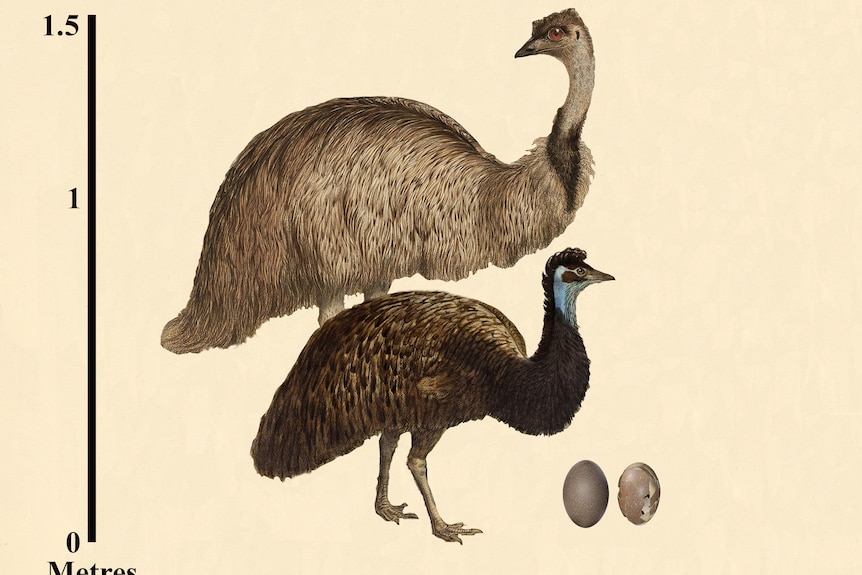 So how did this creature make it to an empress' garden? And what befell its brethren back home?
Voyages of discovery
The King Island emu was part of a remarkable scientific haul brought to France on board the vessels of the Baudin Expedition.
This was a scientific and imperialist mission to the Great Southern Land led by Nicolas Baudin and commissioned by Bonaparte.
"They were trying to chart the missing part of Australia," said Stephanie Parkyn, former ecologist and author of Josephine's Garden.
Their quest for knowledge went beyond charting and geography — at this time the natural sciences had prestige and France was keen to flex its scientific muscle.
"There was a rivalry with the English and nations were very proud of their scientific knowledge," Dr Parkyn said.
The expedition left Le Havre, France, in 1800 with two ships, the Géographe and Naturaliste, and a whopping 22 scientists on board.
This included young naturalist Francois Peron who joined the expedition to escape a heartbreak, and who would go on to collect the King Island emu.
Discovery, disaster, death
When their ships reached King Island in December 1802 the French explorers found they were not the first sailors to drop anchor in its waters.
Ancient evidence shows Aboriginal use of King Island before colonisation, but it is believed the remote ecosystem was uninhabited by humans when non-Indigenous people first arrived.
The first non-Indigenous person to clap eyes on King Island was a sealer, William Reed, who is believed to have sighted the island in 1799.
The beaches were packed with lumbering, blubbery elephant seals, whose slaughter and processing for oil and skins became one of Tasmania's first boom-and-bust extractive industries, along with whaling.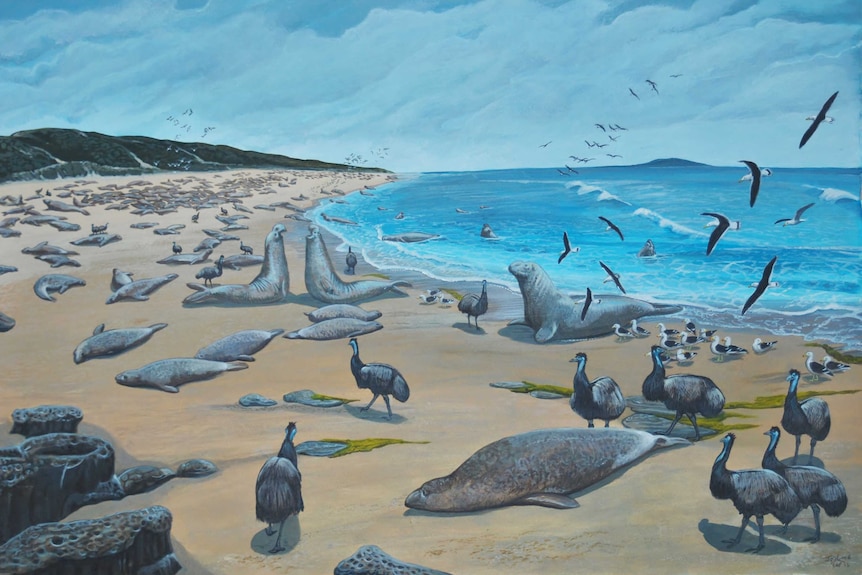 By the time Peron arrived, the sealers had well and truly set up camp and the island was very different to today.
"There was a lot of native vegetation, it hadn't been cleared like it is now," said Cathy Byrne, senior curator of zoology at the Tasmanian Museum and Art Gallery.
"There was a lot of very thick coastal heath … and [emus] would push their way through the undergrowth."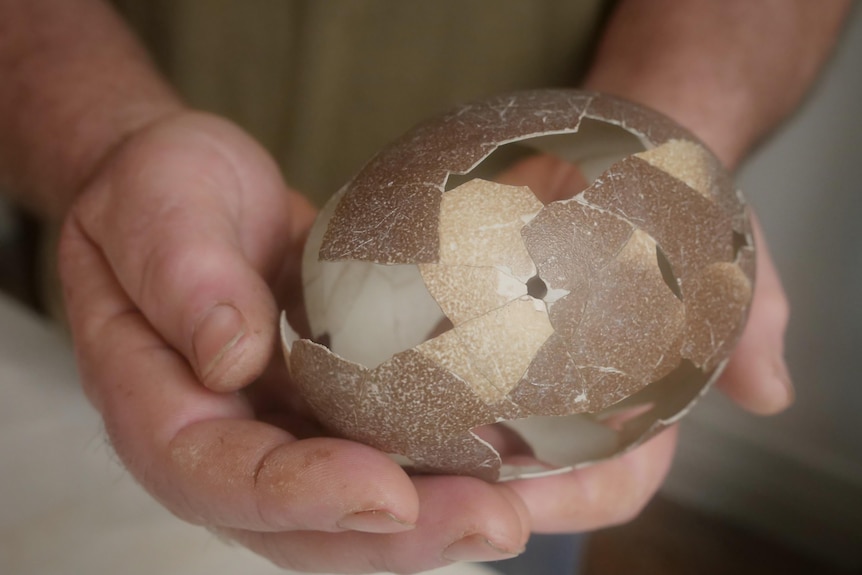 Peron's first glimpse of the emu was gory. He noted in his journal that they were "hanging from a sort of butcher's hook" in a sealers cabin.
The sealers hunted emus with dogs and welcomed the scientist with a soup made of a medley of wombat, emu, and other mystery meats which he described as a "savory meal".
His notes about the emu show that their palatability was front of mind, writing:
The flesh … halfway (so to speak) between that of a turkey-cock and that of the young pig, is truly exquisite.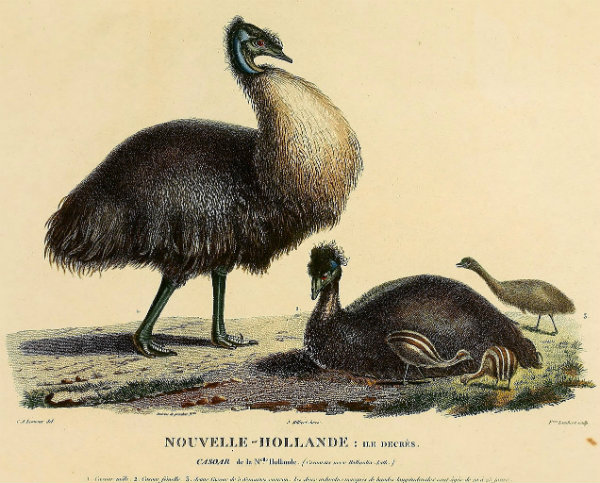 One emu at least escaped his plate and was taken aboard the Géographe, destined to outlive its enthusiastically-hunted kin that would disappear entirely by 1805.
The island's wombats, elephant seals, and quolls were also eradicated.
Baudin's arc of horror
The emu arrived in Brittany, France, aboard the Géographe in March 1804, 15 months after it was loaded onto the ship.
It had shared its hellish journey with a strange assortment of creatures including the Kangaroo Island emu, kangaroos, black swans, frogs, tortoises, and non-Australian species such as lions and mongoose.
So how did they survive the trip?
"Not all of them survived … but Baudin insisted that his lieutenants give up their cabins to the animals to try to keep them alive," Dr Byrne said.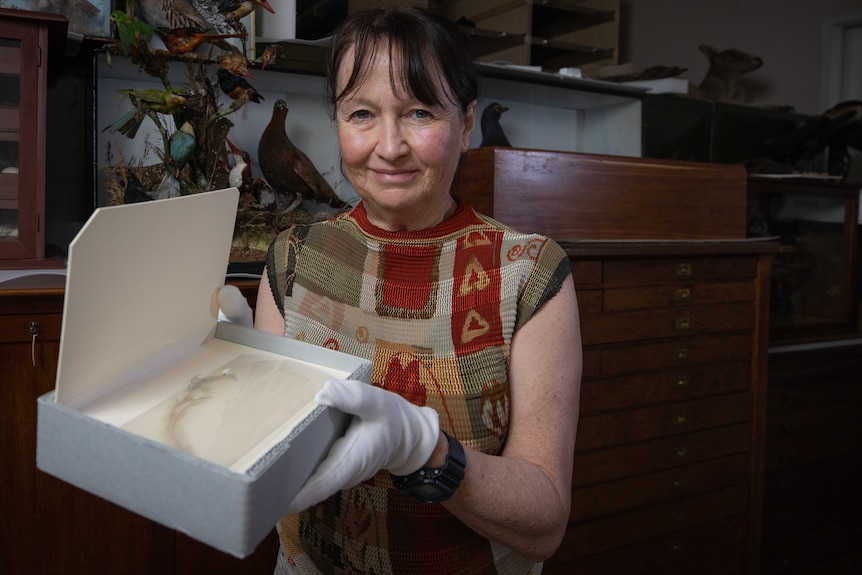 Baudin's journals note the struggle of keeping the creatures going, writing:
Since the emus refused to eat, we fed them by force, opening their beaks and introducing pellets of rice mash into their stomachs. We gave them, and the sick kangaroo likewise, wine and sugar, and although I was very short of these things myself I shall be very happy to have gone without them for their sake if they can help in restoring them to health.
Baudin's own health was suffering by this point, as his observation continued to note:
I had a worse bout of spotting blood than I had had before.
The emus would survive the trip but Baudin succumbed to tuberculosis before arriving home.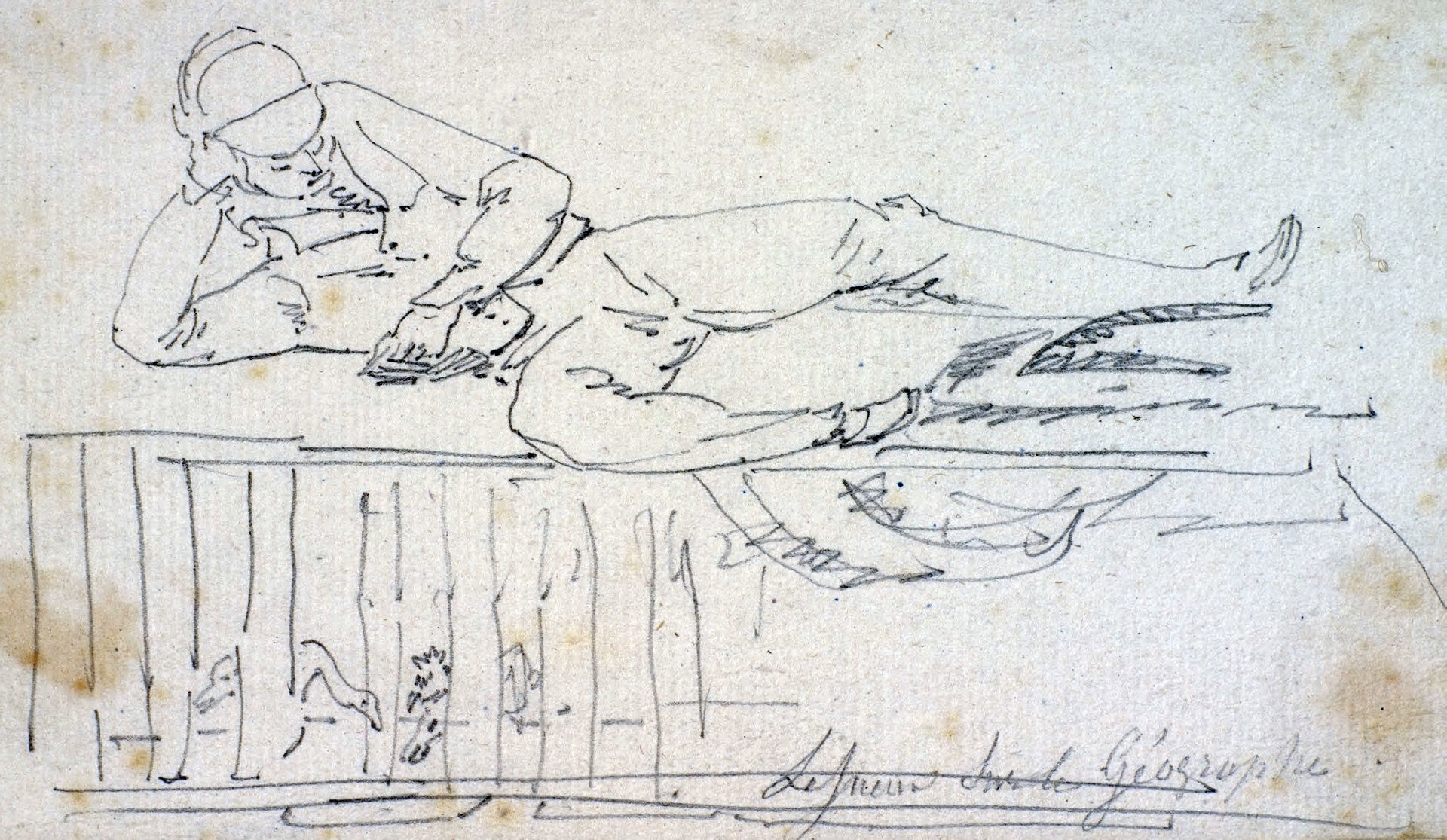 The ship was plagued by scurvy and dysentery, as well as tuberculosis, and many sailors and scientists died aboard.
Only three of 22 scientists on the expedition made it back to France, with ten jumping ship early in Mauritius and the other nine falling to the hardship of travel.
Peron was the lone zoologist to return and was celebrated for collecting at least 100,000 preserved specimens, a vast wealth of flora and fauna prized in its day and still used by researchers today.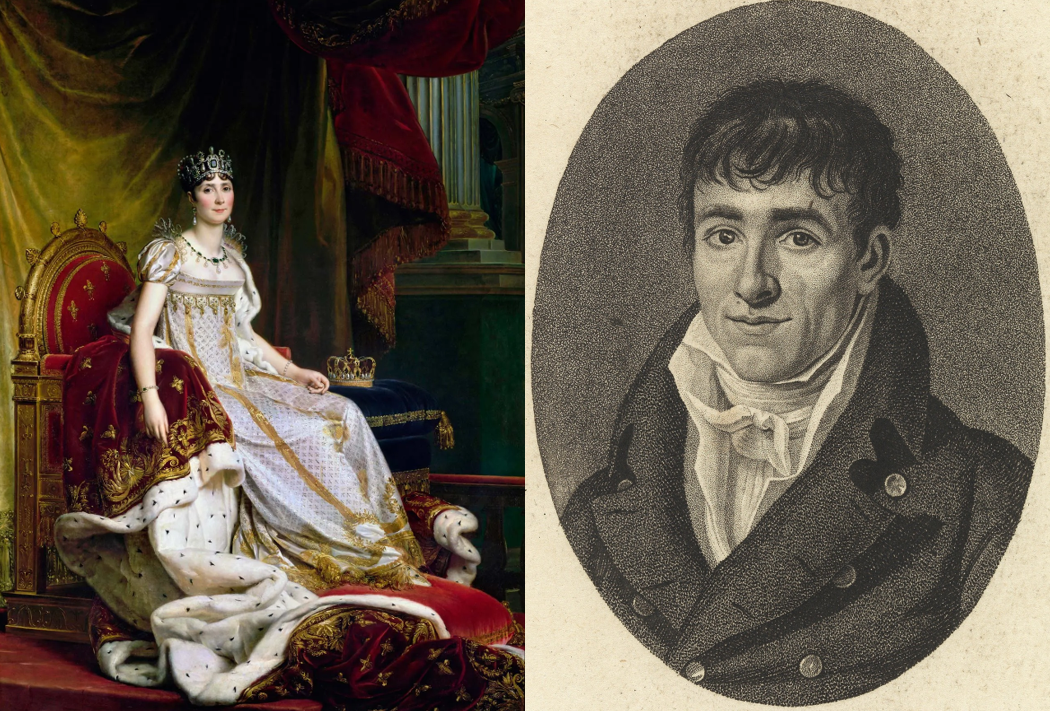 The live animals were particularly prized by the Empress who "had a keen interest in the natural sciences", Dr Parkyn said.
She said having Australian species in the garden would have been the 19th-century equivalent of having items brought back from Mars in your house.
"There's no way she could have travelled to see them herself," Dr Parkyn said.
What remains?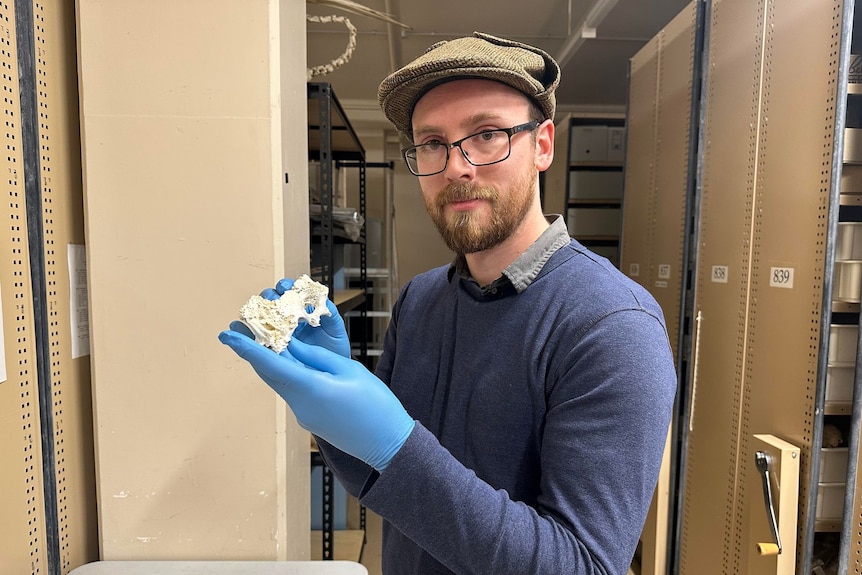 Tasmania's relics of the King Island emu are limited to the contents of a few small boxes in research facilities.
Dr Hocking cares for several of these specimens behind the scenes at the Tasmanian Museum and Arts Galleries collection.
"These are preserved fossilised bones that have come out of sand dunes," he said.
The fossils are from animals that lived and died on the island and could range in age from just before the animal's extinction to thousands of years old.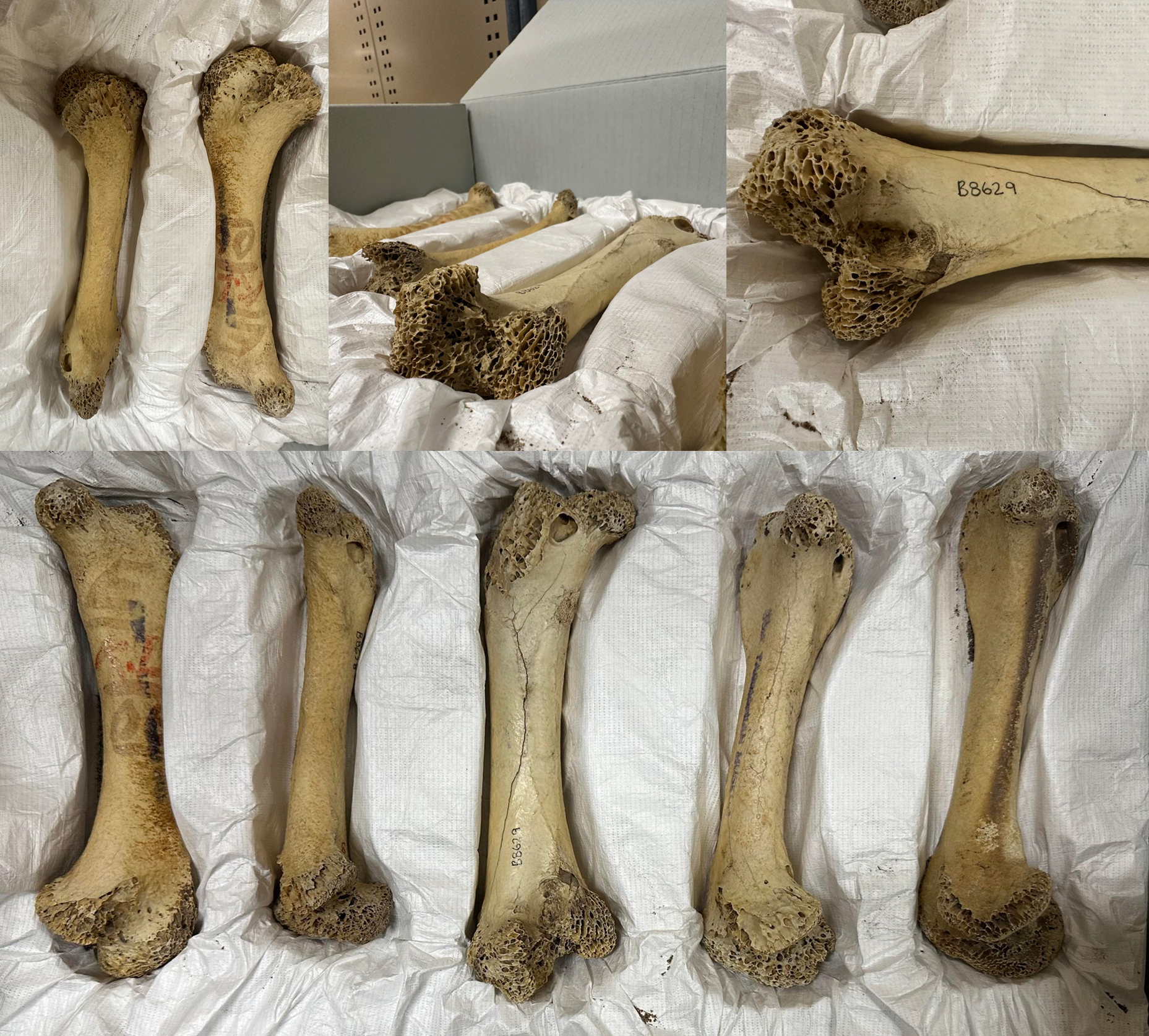 The last King Island emu outlived the empress, dying in 1822.
It underwent taxidermy and is held by the French National Museum of Natural History.
One feather from the far-flung endling found its way home when it was gifted back to Tasmania by the French museum.
"You wonder if it knew what had happened to the rest of its kind," Dr Hocking said, looking down at the delicate, double-stranded specimen.
It is cherished and lays under a plastic sheet in its own beribboned box.
The lonely feather of the last ever King Island emu is considered too precious for display.