Skeletons belonging to a gigantic, three-tonne relative of Australia's modern-day wombats have been unearthed by scientists in Western Australia's north, shedding light on the state's rich natural history.
Key points:
Diprotodons were the largest known marsupials to have ever lived
Five sites with Diprotodon bones have been found in WA
Scientists hope to recover four or five individual remains from the one site in the Pilbara
Western Australia Museum's palaeontology team descended on a remote mine site at Du Boulay Creek, in the Pilbara, where several Diprotodon fossils have lurked beneath the surface for tens of thousands of years.
Related to the modern-day wombat and koala, the diprotodon is the largest known marsupial to have ever lived, growing up to four metres in length and 1.7 metres tall, and reaching weights of almost three tonnes.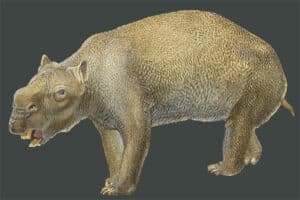 On the site, the dig team is hoping to recover four or five skeletons, including skulls, jaws and teeth, which are partly visible and embedded in the hard creek bed.
The creatures were discovered in 1991 and have been observed and carefully protected since, with the original specimen now in the WA Museum.
"It was a researcher working just on top of the cliffs," WA Museum Curator of Mammalogy Kenny Travoullion said.
"He looked down and saw some bones and reported them to the museum."
He said the Diprotodons were herbivores, roaming the landscape in herds and eating saltbush.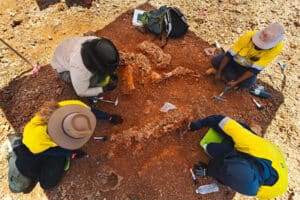 "They're pretty incredible animals," Dr Travoullion said.
"They would have overlapped with the first people of this land … we don't really know much about them.
"But by studying them in the field here, taking them back to the museum, and having researchers and experts come and look at the bones, we'll be able to uncover more about these creatures and how they lived in the past."
The Du Boulay Creek site, in the Fortescue River floodplain, 1450 kilometres north of Perth, is believed to be unique because the remains of several Diprotodons are near each other.
It is believed the presence of both adult and juvenile skeletons could mean the site was on a major migration route.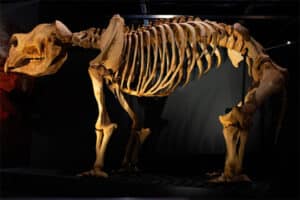 This site is the fifth of its kind in Western Australia, with other Diprotodon fossils discovered in remote locations including the Nullarbor Plain.
Due to the risks of flooding, experts say excavation is critical to preserve the skeletal remains.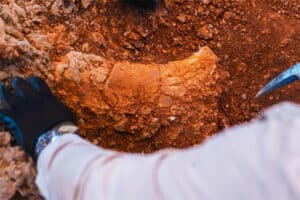 Culture and Arts Minister David Templeman said the find was globally significant.
"Under this ancient sky on this ancient landscape, we are now uncovering stories of the past that date back thousands and thousands of years," he said.
"The scientific knowledge that's gained by these findings will be shared worldwide and give attention to Western Australia more broadly."
Aspiring students 
For year 11 Karratha High School student Henry Noble, having the Diprotodon site close to home has been a thrill.
"I really like to find out stuff of the past," he said.
"It's just kind of like time travelling in a way."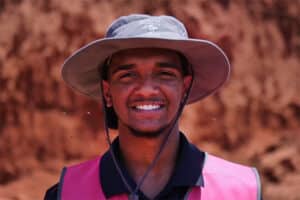 Just as delighted is year 10 student Maddison Dart, who says she wants to be an archaeologist one day.
"I'm very excited, I like being out in nature … and looking at bones of animals," she said.
"So being able to see actual fossils in real life and digging them up is amazing."
Once recovered, the fossils will be taken to Perth and kept at the WA Museum Boola Bardip.
---
See also: Diprotodon Dig unearths skeletons of giant wombat-like marsupials